Albemarle not on track to meet 2030 emissions reduction goals
It has been about a month since the Intergovernmental Panel on Climate Changes issued an update on progress toward efforts to keep the average global temperatures from rising above 1.5 degrees. Achieving that ambitious goal will take coordinated action at all levels of government, including the county-level in Virginia.
Earlier this month, the Albemarle Board of Supervisors learned the county is not currently on track to meet a goal to reduce greenhouse gas emissions by 45 percent of 2008 levels by the year 2030. A second goal is to become at net-zero by the year 2050. To get there, the county has a Climate Action Plan that Supervisors adopted in October 2020. (read the plan)
"This report increases certainty in what we've already known," said Gabe Dayley, Albemarle's climate program coordinator. "Greenhouse gas emissions from human activities like burning fossil fuels, deforestation, and other sources of greenhouse gas emissions are causing climate change."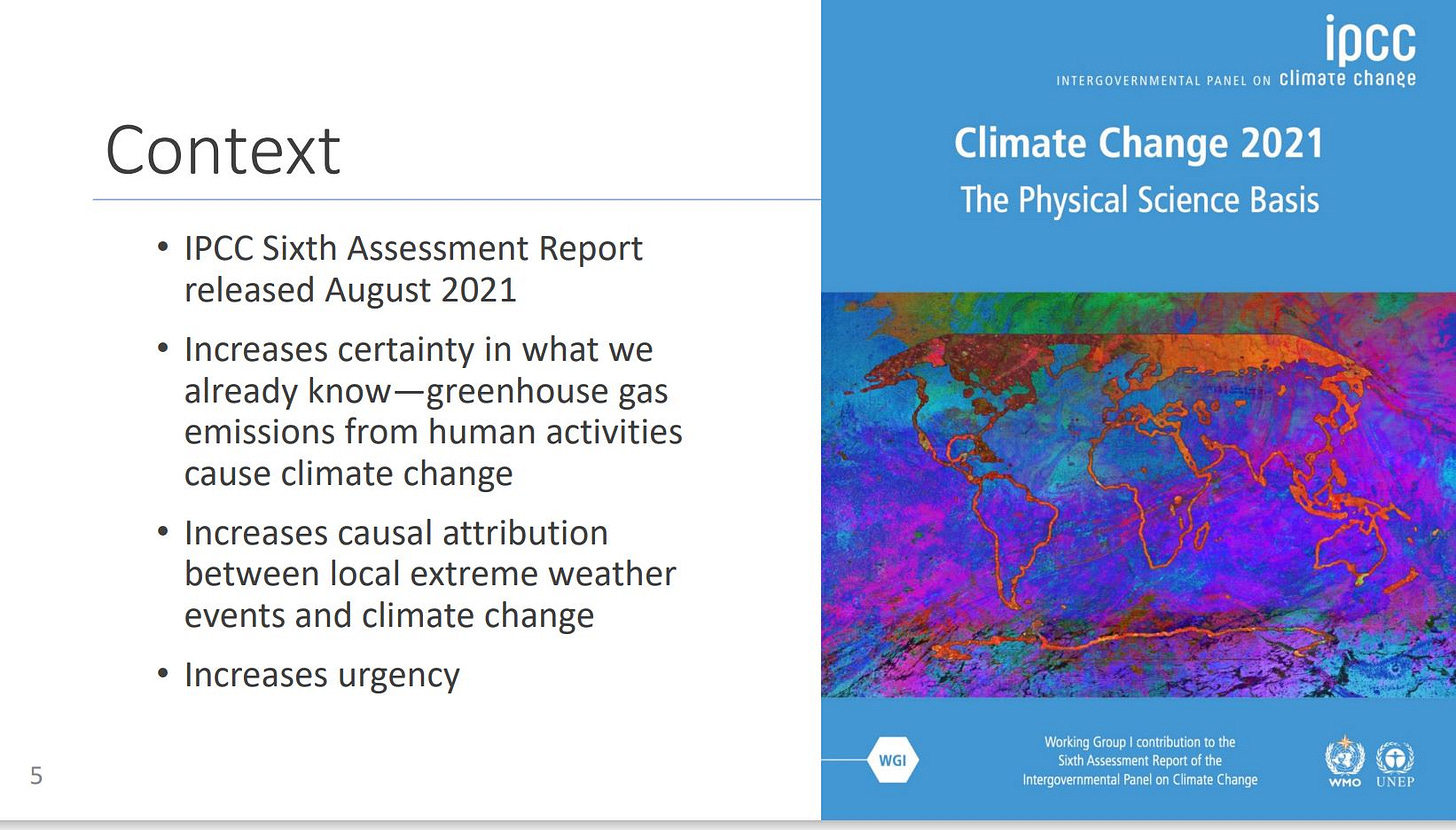 Dayley said the IPCC report also links increased instance of extreme weather with climate change. He said there is a sense of urgency in the report and the Climate Action Plan is intended to document the various ways emissions can be reduced.
"The climate action plan has 135 actions," Dayley said. "They run across five chapters on transportation, buildings, renewable energy, waste management, and landscape/agricultural/natural resources."
The plan will help guide investment in various programs. So far, Albemarle has provided funding to the Albemarle Home Improvement Program and LEAP to install energy-efficient improvements in homes of people with lower incomes.
"That program has gone really well in the first six months of this year," Dayley said. "We've had 15 homes that were retrofitted with better insulation, with improved appliances to help reduce homeowners energy bills and then of course the weatherization to help folks who are losing a lot of heat."
Dayley said the county is working on an assessment to determine who and where in Albemarle is most vulnerable. That work has been funded by the Piedmont Environmental Council and a report is due in mid-November.
But about those emissions targets? To get a sense of where Albemarle currently is, a greenhouse gas inventory was conducted based on data from 2018.
"We calculated that in 2018 the community wide emissions for the county where 1,419,367 metric tons of carbon dioxide equivalent," Dayley said. "We calculate that we saw a ten percent decrease in community-wide emissions between our last inventory in 2008 which is the baseline for the county's targets."
Dayley said that happened despite an increase in population, which generally leads to an increase in emission. He said explanations include greater fuel efficiency, the increase of carbon-neutral or lower-carbon energy sources, and more efficient heating and cooling systems.
However, to hit the 2030 target, Dayley said the community needs to cut reductions by another 40 percent. The next inventory will come out in two years based on data from 2020.
The University of Virginia, Charlottesville, and Albemarle County are working together to implement various action plans. Supervisor Diantha McKeel wanted to know how that work would influence various policies, such as how to move transit fleets away from fossil fuels.
"We have five transportation systems in this community of somewhere around 150,000 people using diesel buses right now," McKeel said. "And I understand that there's a change in Albemarle County Public Schools towards electric school buses and that's all great. But what is our outreach to [Charlottesville Area Transit] and the University of Virginia all working together? Where is that connection happening?"
McKeel referred to a statement made earlier this summer that CAT is continuing to study the right way forward and is pursuing a study of compressed natural gas.
Dayley said that transportation is the largest sector of emissions and there is a high priority to address the issues. He hoped that further program development of the climate action plan will help to facilitate those conversations.
"One of my next steps is to reach out to them and hear in a little bit more detail about how that's going and how the climate program team can help advance that effort," Dayley said.
Lance Stewart, the county's director of facilities and environmental services, said a closed door group consisting of UVA, Albemarle, and Charlottesville staff have "touched upon climate" at their meetings. The Land Use and Environmental Planning Committee (LUEPC) last met on July 23 and discussed the University of Virginia's plans to comply with an executive order from Governor Ralph Northam to reduce single-use plastics.