City manager's report: Collective bargaining process soon to begin
Yesterday's Week Ahead newsletter was too long to feature anything from a very informative section of the agenda for tonight's City Council. Here are some highlights from the city government in Charlottesville from the March 6 report from interim city manager Michael C. Rogers. (read the report)
For some reason, the top item is an announcement of nonstop flights from Charlottesville to Orlando from the Charlottesville Regional Airport beginning on May 3. Direct flights to Philadelphia on Americans Airlines begin on April 4.
The city has hired a Labor Relations Administrator to serve as the negotiator in the forthcoming collective bargaining between employees and management. Sarah Miller Espinoza has also performed similar duties in Fairfax County and the city of Alexandria. The city has hired Jimmy Morani to represent management. Espinoza will lay out the rules for the petition and election process in 21 days. Councilors are to be trained by someone from the firm Venable today.
Mark your calendars for a strategic planning retreat for City Council on May 5 and May 6. The North Carolina-based firm Raftelis was hired in January to work on the document which has been delayed a few years.
There's one more week to submit a poster for a contest honoring the 50th anniversary of the City Market. Learn more about that in my story from February 15, 2023. The market season will begin on April 1.
The window is open for elderly and disabled community members to apply for relief from real property taxes and will close on May 1. See the image below for criteria or visit the Commissioner of Revenue's section of the city's website.
A request for proposals is expected to go out this month for a firm to assist Charlottesville Area Transit in providing microtransit service in Albemarle with service anticipated for the summer. Learn more about the program from this article I wrote on February 14, 2023.
Fifteen percent of city staff failed an email phishing campaign in February, the same rate as the previous training exercise.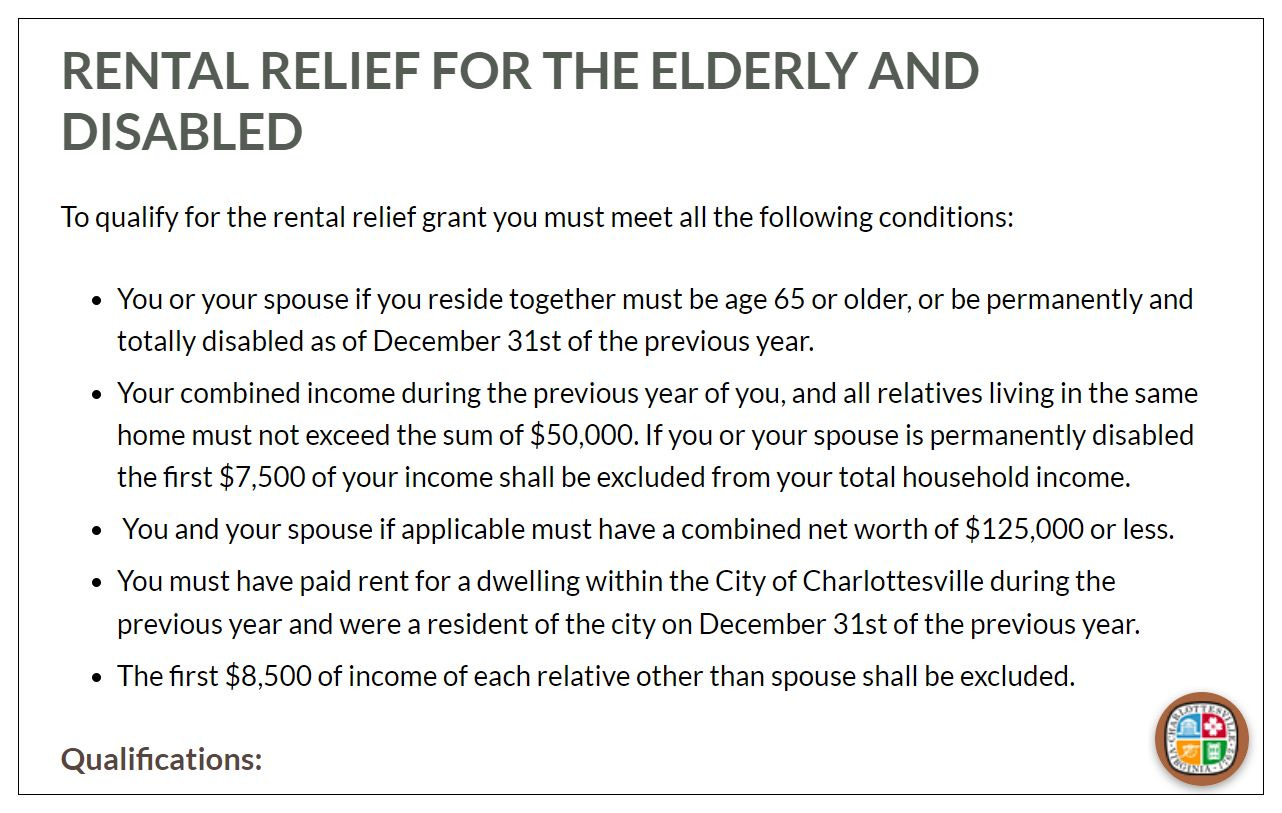 ---
Before you go: The time to write and research of this article is covered by paid subscribers to Charlottesville Community Engagement. In fact, this particular installment comes from the March 6, 2023 edition of the program. To ensure this research can be sustained, please consider becoming a paid subscriber or contributing monthly through Patreon.