Albemarle Supervisors hold lengthy work session on proposed affordable housing ordinance
The Albemarle Board of Supervisors updated the county's housing policy in July 2021 when they adopted the Housing Albemarle plan but have so far not passed an ordinance to impose requirements on developers to set aside a percentage of units as affordable. They didn't get any closer to doing so at a work session held on April 19 and will have another one soon in the near future.
Last Wednesday's work session was the latest in a series of discussions intended to create a system of financial incentives for developers to designate units as affordable. The most recent one was in February. (Albemarle Supervisors briefed on grant program to incentivize creation of below-market units, February 15, 2023)
This time around, Housing Policy Manager Stacy Pethia wanted feedback from Supervisors.
"We would really like to get feedback on the proposed cash-in-lieu payments [and] if those amounts are set at an appropriate level," Pethia said. "Board feedback on a proposed right of nonprofits to purchase affordable dwelling units."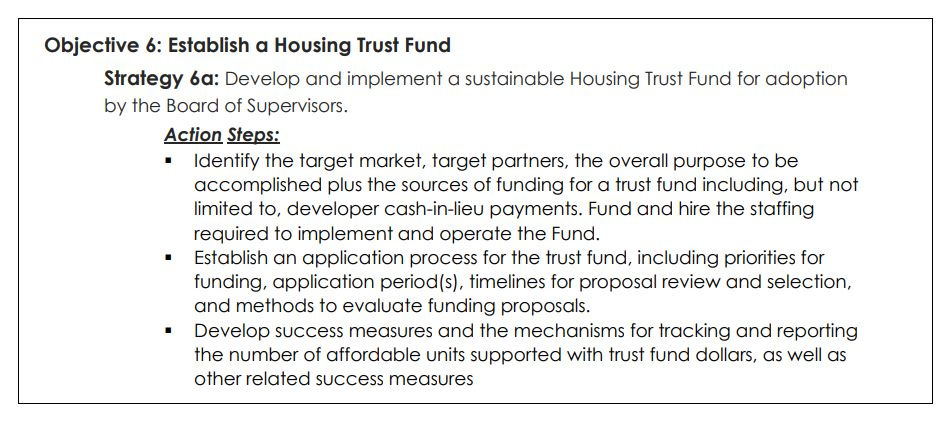 In February 2022, the idea had been to create an overlay district for affordable housing but Supervisors pushed back on this idea. The idea of an affordable dwelling ordinance was discussed at a work session in May 2022. A month later Supervisors officially directed staff to pursue one under Virginia code. There are two different provisions for this form of inclusionary zoning.
"One really has a lot of specific direction attached to it and that is for the majority of localities in the state," Pethia said. "There are a handful of localities across Virginia that have a less restrictive version of the enabling legislation and so really we feel under that less restrictive version."
This would allow Albemarle to require a certain percentage of new units to be designated as only being available for households below a certain income threshold, and to set a minimum length for them to remain affordable.
"The only thing that we are required to do is attach this to rezonings or special use permits that request an increase in density," Pethia said. "The projects would need to have a minimum of twenty percent of the units provided as affordable housing."
For sales, the definition of affordable would be for households making less than 80 percent of the area median income. For rentals, that would be for households making less than 60 percent of the AMI.
"It also includes a component that would provide nonprofits the right to purchase affordable units after a 60 day marketing period," Pethia said. "After that 60 day period, if not income-qualified buyer from the waiting list has been identified, then the units would be offered to local nonprofits to purchase."
The waiting list does not yet exist and would have to be created. Pethia said the county is currently evaluating different software models.
Under the proposal, developers could pay a fee in lieu of building the units, and this would go to the affordable housing reserve.
"And that cash-in-lieu fee would be equal to 50 percent of the affordable dwelling unit sales price for each ADU not provided," Pethia said.
Pethia said that currently works out to about $109,000 per unit.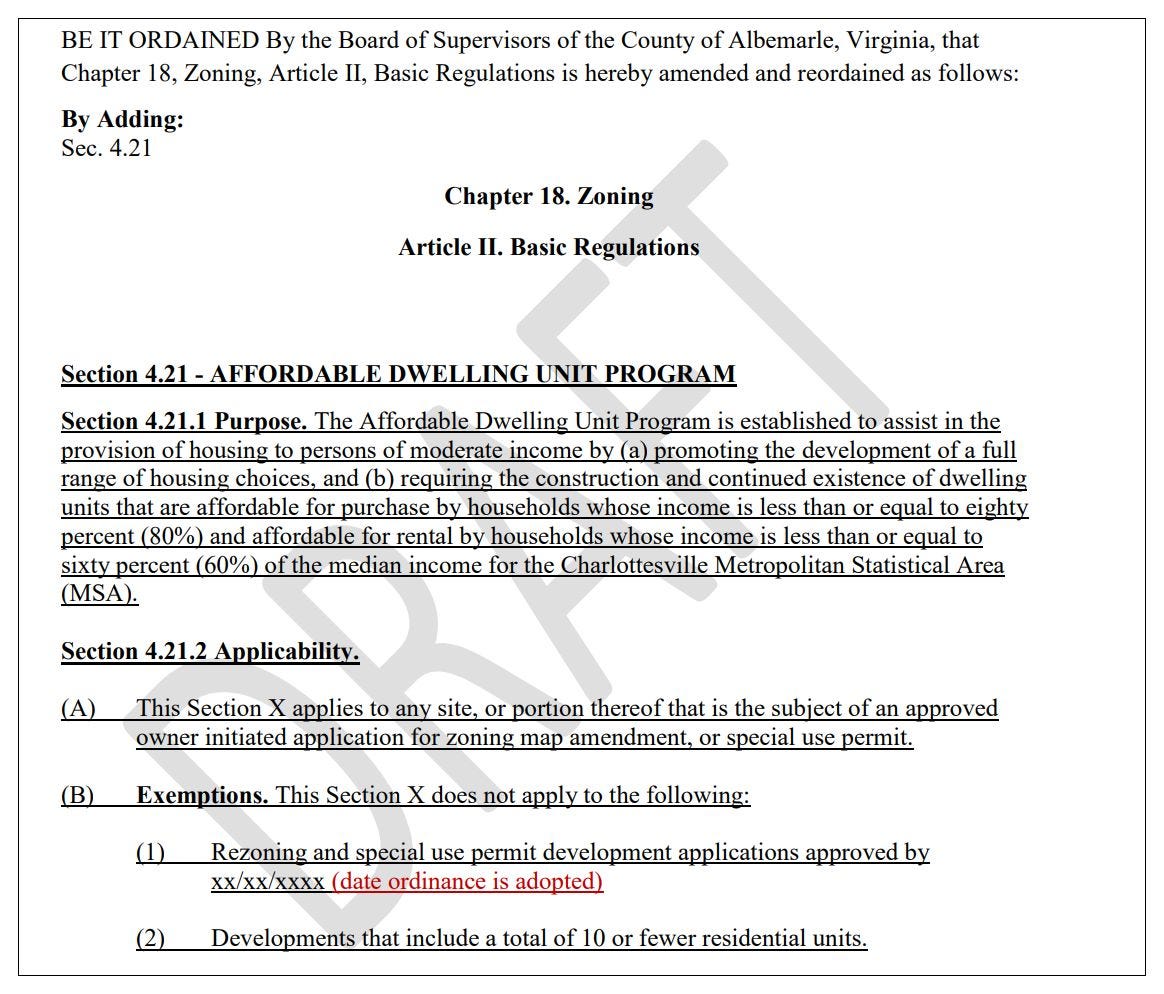 The developers could also build the units off-site, but would have to demonstrate why providing the houses on-site would not be feasible.
Albemarle would also require affordable units to be no different than market-rate ones.
"That would include making sure that the affordable units are the same square footage as the market rate units, have a mix of bedrooms per unit similar to the mix of bedrooms in the market rate units, and that the ADU's would include a minimum set of appliances," Pethia said.
Pethia calculated the maximum sales price under the draft ordinance at $219,050 based on 65 percent of one federal metric. The current maximum under existing policy is at $243,750. These sale prices would be controlled for 40 years.
The rental prices would be capped based on Housing Albemarle.
"That maximum rent includes not just the rent that is charged for the unit but also a utility allowance and so what it does is make sure that the rent plus utilities is 30 percent of 60 percent of the area median income," Pethia said.
Landlords could increase rent no more than three percent at each lease renewal. Rents would be reset if new tenants take over the space. Once a year, tenants would have to prove their incomes were below the qualifying level.
Landlords found to be renting out affordable units at market rates would be penalized with a fine of $250 a day. Tenants who don't recertify their income would not be allowed to renew their lease.
Public comment
In a couple of minutes we'll hear what Supervisors had to say. But first, members of the development community had their say earlier in the meeting.
Neil Williamson of the Free Enterprise Forum noted there are at least sixteen required tasks that will have to be performed by county staff as part of the proposed program.
"Based on our analysis, the ADU program would require the county executive or his or her designee to annually set price limits on ADU sales, annually set price control limits on ADU resale, and establish qualifications for all ADU buyers," Williamson said.
He read the rest of the tasks before concluding.
"Annual recertification of ADU tenants, issuing zoning violations and collecting fines for violations," Williamson said. "As a reminder, Albemarle County Office of Housing currently has one employee."
Valerie Long with the firm Williams Mullen also had comments on the ADU work session and referred to the affordable grant program that was to have been the subject of a public hearing later on at this meeting.
"My strong concern and that of our many clients and that of our many clients who have received these proposals is that if the affordable dwelling units ordinance is adopted but the grant program does not balance that out, no one will be able to develop any housing under rezonings, much less affordable units," Long said.
Incentives were not the subject of the work session but yet was discussed anyway
But then it was back to Supervisors. This part of the conversation is tricky because the incentives program would still be tied to any application process. Pethia said the county is limited in what incentives can offer, and that's why a grant program is being proposed.
"As we'll discuss later this evening, the proposed grant program really looks to fill the gap between the market rent and the affordable rent on the affordable units," Pethia said.
In February, that had included refunding water and sewer connection fees, but that idea has been replaced with a model based on property tax rebates.
Supervisor Ned Gallaway said he needed a better idea of what restrictions state code put on Albemarle's ability to incentives.
"For two years, I've been throwing out what we can do, a menu of incentive options," Gallaway said. "It seems to be collapsing and I don't understand why and I was told at the beginning that was possible and now I'm hearing it's not."
Gallaway also asked Pethia how many staff members would be required to implement the program. She responded that Loudoun County only has one person in that role.
"And so there is a request in the budget for one additional housing staff person that would be hired in the beginning of 2024," Pethia said.
Supervisor Diantha McKeel asked Pethia to describe the differences between for-profit developers and non-profit developers.
"One of the biggest differences between the two is the types of financing that non-profits have access to that for-profit developers do not," Pethia said. "So when you look at a project and the one I know about more than anything is the Crossings at 4th and Preston. That project had 17 different types of funding sources associated with and they included low-income housing tax credits, various federal and state grants."
In addition, both Albemarle and Charlottesville allocate project-based housing vouchers to the Crossings.
But there are for-profit companies that pursue affordable housing projects as well. Pethia also mentioned Brookdale, a project built by Pinnacle Construction that included involvement with the county's Economic Development Authority.
"They requested $1.5 million and that was to help subsidize the development of 96 affordable units," Pethia said. "So all 96 of those units are rented at between 40 and 60 percent of the area median income."
For more information about the performance agreement for that project, go back and read the article I wrote about Brookdale back in September 2017 for Charlottesville Tomorrow.
I'll be back more in just a moment.
Supervisors seek other approaches to tackling Albemarle's housing policy
Toward the end of her comments, Pethia had sought feedback on whether developers should be allowed to pay into a cash-in-lieu program for units. This would allow the county to plan better for where to invest that fund.
"So if we know we're going to get $1.5 million in cash proffers into the housing fund, we can begin to think strategically about what types of projects we know are coming up affordable housing-wise, then be able to begin to think about how to use those funds," Pethia said.
At the end of the work session, Supervisor Chair Donna Price asked her colleagues if they had any final comments about the ordinance before staff continues to get it ready for public hearing.
Supervisor Ned Gallaway pointed to an article posted by Neil Williamson of the Free Enterprise Forum that suggested the county is heading in the wrong direction. (read the article)
"Today he released a report and his photo had a sign that said 'wrong way,'" Gallaway said. "I thought about that and it's like, okay. So what's the alternative sign? The alternative sign in that situation would be 'right way' and in thinking about this today I don't think that's the sign envision, right way. But what I did envision is a sign that says 'welcome' and once you're in and past the starting line, a bunch of signs that point you in directions of where you'd like to get to and go."
Gallaway said different stakeholders seem to want the same outcomes but have different ways to suggest getting there. But he also said that the proposals as they exist may not get enough people past that starting line because he felt developers would just build by-right without rezonings.
"I cannot make a decision on this because right now I don't think anybody walks through the welcome sign and gets into our park," Gallaway said.
Referring to his day job in vehicle sales, Gallaway said he needed access to more of the financial information to understand what it would mean to incentivize developers to participate in the system. He also he felt Supervisors would benefit from a special meeting to address affordability with more stakeholders than just county staff.
Supervisor Bea LaPisto-Kirtley agreed and said what had been presented was not clear enough.
"I'd like to have a separate work session with us actually with all parties involved," LaPisto-Kirtley said.
Pethia said another way of proceeding was possible, but she would still take feedback and really wanted to get information on the cash-in-lieu issue. Supervisor Price said she was skeptical.
"I am reluctant on cash-in-lieu because it appears to me that over time we've gotten money but not housing," Price said. "But if we were to have a cash-in-lieu component, I think it needs to be scaled and easily adjustable so it doesn't almost immediately become antiquated in its application."
Supervisor Diantha McKeel said she thought it was worth staff pursuing the overlay district to provide incentives along bus routes.
"If we focused an incentive on areas where we need housing, and we've talked about transit," McKeel said. "How many times have we talked about transit here today? We know at Rio and 29 we're probably going to need a transit hub. What a great place to put an overlay for affordable housing!"
County Executive Jeffrey Richardson said he would follow Board's direction to hold another work session and one that would take a different format than those scheduled to date.
In upcoming editions of the newsletter, I'll write about the tax relief program and the affordable grant program discussed later in the April 19 meeting.
---
Before you go: The time to write and research of this article is covered by paid subscribers to Charlottesville Community Engagement. In fact, this particular installment comes from the April 25, 2023 edition of the program. To ensure this research can be sustained, please consider becoming a paid subscriber or contributing monthly through Patreon.