Piedmont Community Land Trust chair details results of Albemarle investment
One year ago, the Albemarle Board of Supervisors invested $625,000 from its housing fund in the Piedmont Community Land Trust, an entity that is now under the umbrella of the Piedmont Housing Alliance. The chair of the land trust's board appeared before the Board of Supervisors yesterday.
"We have taken that money and converted it into 12 permanent new construction units," said Keith Smith. "Just to put a little numbers to it, that translates into $4.8 million dollars worth of homes." 
Smith said the average household participating is at 65 percent of the area median income.
"Our average household income is $49,500," Smith said.
Smith said with funding from other sources, the land trust was able to build a total of 23 units in developments such as Avon Park. He said some of the homes were bought by Albemarle County and the land trust structure will keep them affordable.
Smith pointed to the fate of one home made possible through Charlottesville City Council's $240,000 investment for four units on Nassau Street in April 2017.
"The city gave us $60,000," Smith said. "That one-time contribution has already translated into two buyers. The original buyer who bought it at 80 percent AMI, actually 65. They recently sold the home and made $50,000 and moved up the ladder of affordability."
Smith said the land use trust mechanism kept the sales price low because the nonprofit entity owns the land and the homeowners own the structure.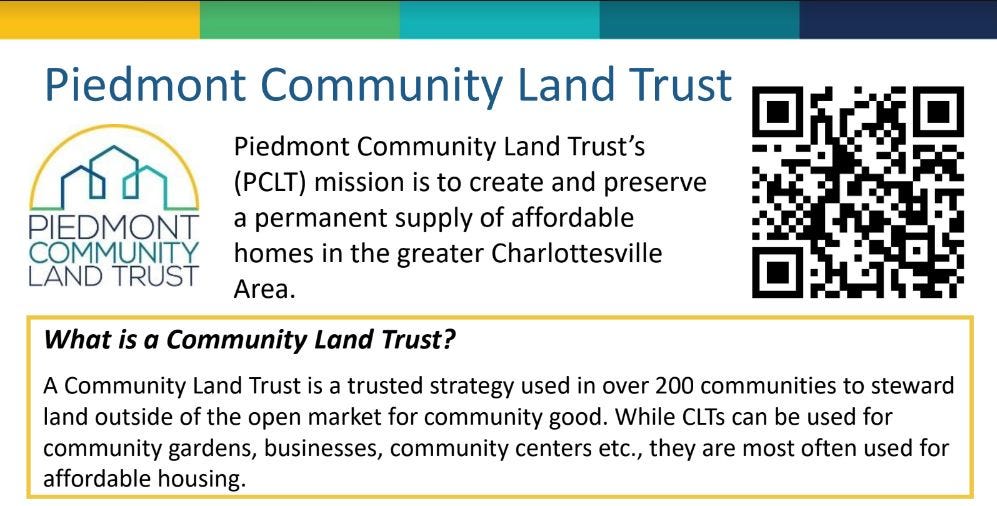 ---
Before you go: The time to write and research of this article is covered by paid subscribers to Charlottesville Community Engagement. In fact, this particular installment comes from the April 25, 2023 edition of the program. To ensure this research can be sustained, please consider becoming a paid subscriber or contributing monthly through Patreon.