Only one candidate in race for Charlottesville School Board so far 
There are 34 days until party primaries in Virginia including several legislative races and City Council. But there are also races for School Board in Albemarle and Charlottesville and it's time for a quick check-in.
First, June 20 also serves as the deadline for candidates for school board races in localities that elect people to those positions. There's still time for people to consider running for a leadership position.
There are four seats up for election on the Charlottesville City School Board with the terms of James Bryant, Jennifer McKeever, Sherry Kraft, and Lashundra Bryson Morsberger set to expire at the end of the year. 
So far, none of the incumbents have filed for the seat and there's only one candidate in the race so far. Requests for comment from the four incumbents were not returned by publication time.
Amanda J. "Mandy" Burns filed paperwork with the Virginia Department of Elections last week and made a statement on her Facebook page this past Mother's Day.
"As a mother to two talented young men, and an accomplished healthcare administrator of more than two decades, I will combine my expertise in project management, implementation, and fiscal responsibility with my deep compassion to affect lasting change and ensure healthy outcomes for young people throughout our community," Burns wrote.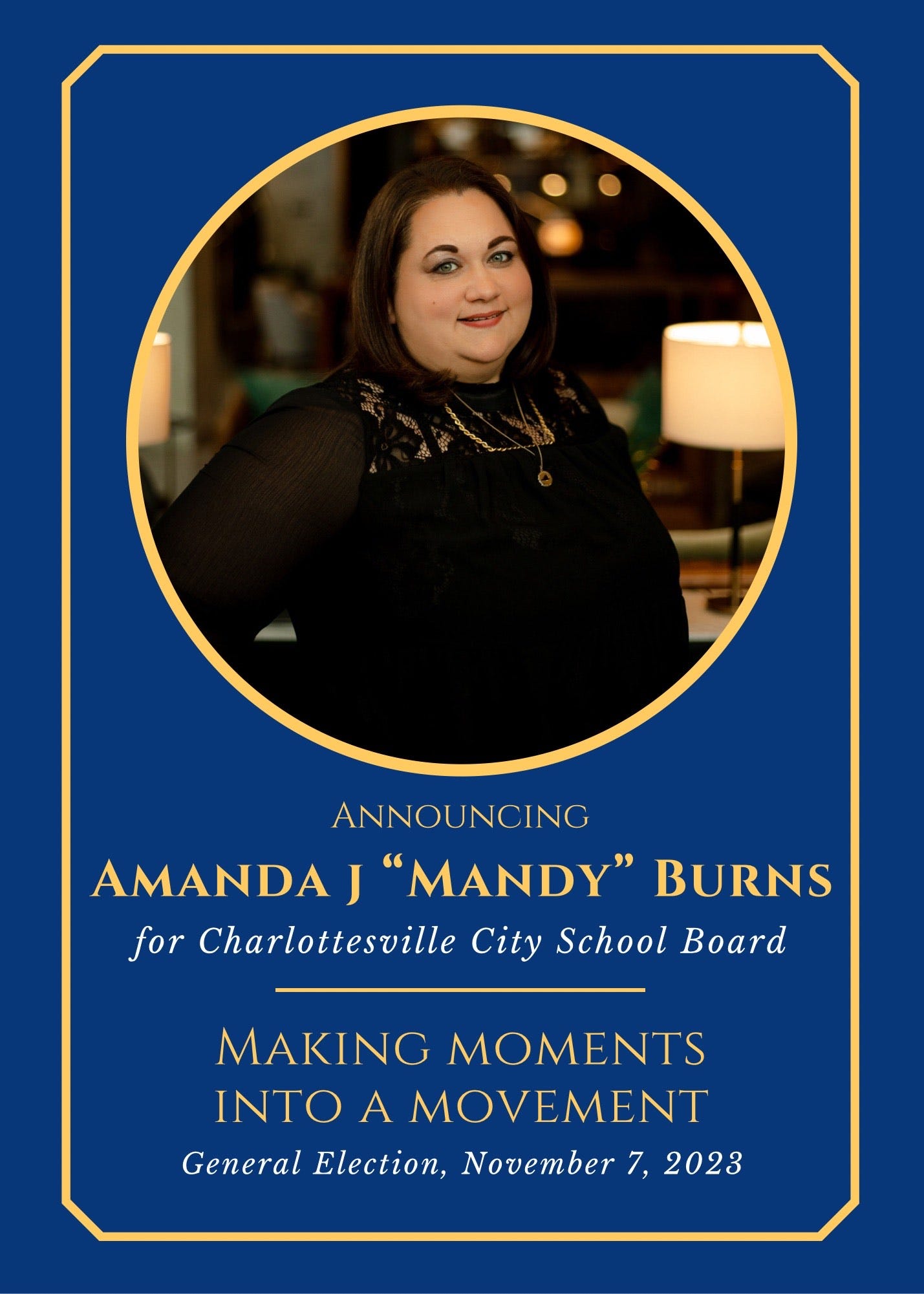 Albemarle races
There are four races In Albemarle County with two of them currently contested.
There are two people seeking the at-large seat which covers all of Albemarle. Meg Bryce and Allison Spillman are the two candidates in the race so far.
Rebecca Berlin was appointed last December to the School Board to represent the White Hall District following the resignation of David Oberg. Berlin filed paperwork in late April to seek a full term and will soon hold an official campaign launch.
She faces challenger Joann McDermid who launched her campaign on April 13.
Two of the district races are currently uncontested. Judy Le is seeking a second term representing the Rivanna District. Ellen Osborne is seeking a second term representing the Scottsville District. 
---
Before you go: The time to write and research of this article is covered by paid subscribers to Charlottesville Community Engagement. In fact, this particular installment comes from the May 17, 2023 edition of the program. To ensure this research can be sustained, please consider becoming a paid subscriber or contributing monthly through Patreon.