Work on U.S. 29 / Hydraulic Road intersection to begin later this year
In the last edition of this newsletter, I provided more detail about several projects under construction at the University of Virginia. There are many different silos of information, and part of the mission of this newsletter is to provide more context as I try to put the pieces together. Take a look back at one of the segments for more detail.
One of those silos is the Land Use & Environmental Planning Committee, a closed-door body made up of planning staff from Albemarle County, Charlottesville, the University of Virginia, and the Rivanna Water and Sewer Authority. While the meetings are not available to review, the minutes take the form of presentation that are made publicly available.
On February 17, 2023, the Virginia Department of Transportation gave an update on several projects that have not yet been before elected officials. Here's what I can share from the presentation (view the presentation):
A fully-funded project to alter the intersection of Hydraulic Road and U.S. 29 is moving forward with multiple elements. One of the changes will be the elimination of left hand turn lanes from Hydraulic Road onto both northbound and southbound U.S. 29. There will also be the addition of an at-grade pedestrian crossing across U.S. 29 that will take two phases to cross.
This will also include a pedestrian bridge over U.S. 29 to connect Stonefield in Albemarle County with the outparcels of Seminole Square Shopping Center in Charlottesville.
The intersection of Hillsdale Drive and Hydraulic Road will be converted into a roundabout, which will require it to be closed for up to 46 days. The roundabout must be completed before those left turns mentioned above are eliminated.
A shared use path will be extended from U.S. 250 along Hydraulic Road to Brandywine Drive, with improvements to be made at that intersection and Michie Drive.
The budget for this project is $28,254,264 and the project has gone out to bid. The Commonwealth Transportation Board is expected to make an award on April 19. A notice to proceed will go out on May 23 with anticipated completion in December 2025.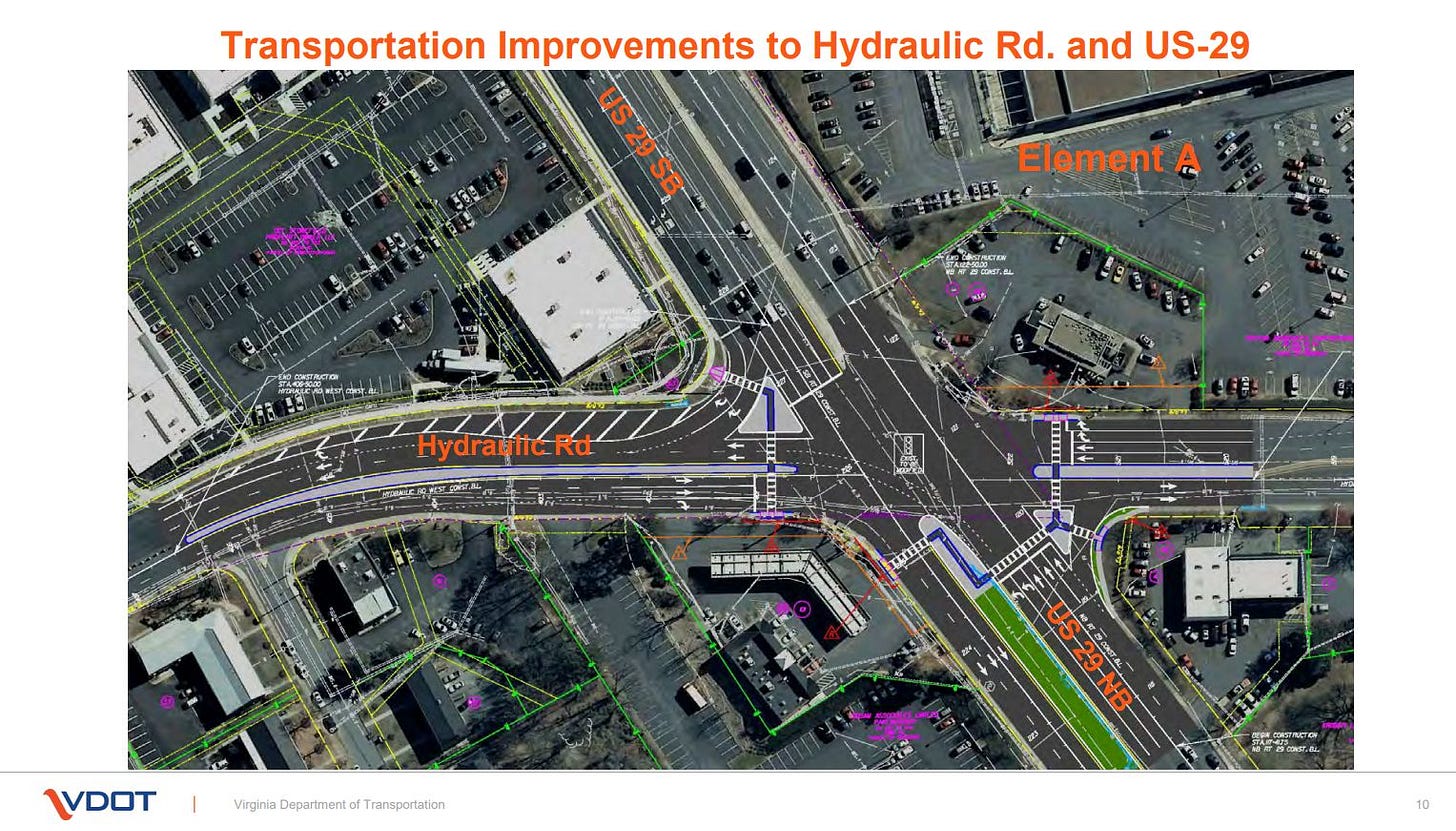 ---
Before you go: The time to write and research of this article is covered by paid subscribers to Charlottesville Community Engagement. In fact, this particular installment comes from the March 21, 2023 edition of the program. To ensure this research can be sustained, please consider becoming a paid subscriber or contributing monthly through Patreon.