Biden signs first of two national infrastructure packages
President Joe Biden has signed the Infrastructure Investment and Jobs Act, which will likely change the landscape for the way all kinds of projects in Virginia and the Charlottesville area are funded.
"This law makes the most significant investment in roads and bridges in the past 70 years," Biden said. "It makes the most significant investment in passenger rail in the past 50 years. And in public transit ever."
The bill provides direct funding to specific areas across the entire country. (details from the White House)
$55 billion to expand access to clean drinking water, eliminating lead pipes and cleaning up PFAS chemicals
$21 billion in funding to remediate Superfund sites in rural and urban communities
$66 billion for public transit, including vehicle replacement from fossil-fuel burning to zero emissions vehicles
$5 billion specifically to purchase clean school buses
$17 billion to modernize ports and update machinery to reduce congestion and emissions
$25 billion for airports including efforts to drive electrification and a transition to other low-carbon technologies
Over $50 billion in investments to protect against drought, heat waves, wildfires and floods
The legislation passed the U.S. Senate on a 69-30 vote and the U.S. House on a 221 to 201 vote. Take a look at the full bill here.
"The bill I'm about to sign into law is proof that despite the cynics, Democrats and Republicans can come together to deliver results," Biden said.
There's also funding to increase internet access.
"This law is going to make high-speed Internet affordable and everywhere, everywhere in America," Biden said "Urban, suburban, rural, and great jobs laying down those broadband lines."
Environmental groups in Virginia are celebrating the signing of the infrastructure bill, which will provide an additional $238 million for the U.S. Environmental Protection Agency for the Chesapeake Bay Program according to a statement from the Choose Clean Water Coalition.
"These additional funds will help reduce pollution in the Bay and its waterways, especially as we approach the 2025 deadline to have all pollution reduction practices in place as part of the Bay's restoration effort," said Coalition Director Kristin Reilly.
Reilly refers to something called the Chesapeake Bay TMDL, a framework to reduce pollution across all of the watersheds that feed into the Bay, including the Rapidan, Rivanna, and James Rivers. Investments have been made over the years, including millions to upgrade the Moores Creek Wastewater Treatment Plant to reduce the amount of nitrogen and phosphorus that makes it to the Bay, creating dead zones with no oxygen.
The bill has also been celebrated by the Virginia Transit Association, who sent out a release pointing out that the bill contains $102 billion nationwide in funding for passenger and freight rail, or a 592 percent increase over usual funding levels. That could include $1.4 billion for Virginia.
"Transit will receive about $1.3 billion in formula funding over the next five years, a 34 percent increase over normal funding levels," said Danny Plaugher, the Deputy Director of the Virginia Transit Association and the Executive Director of Virginians for HighSpeed Rail. "The Charlottesville area will receive about an extra million a year over that period. Virginia will also be competitive on several expanded transit and rail grant programs which could invest billions into our transportation network."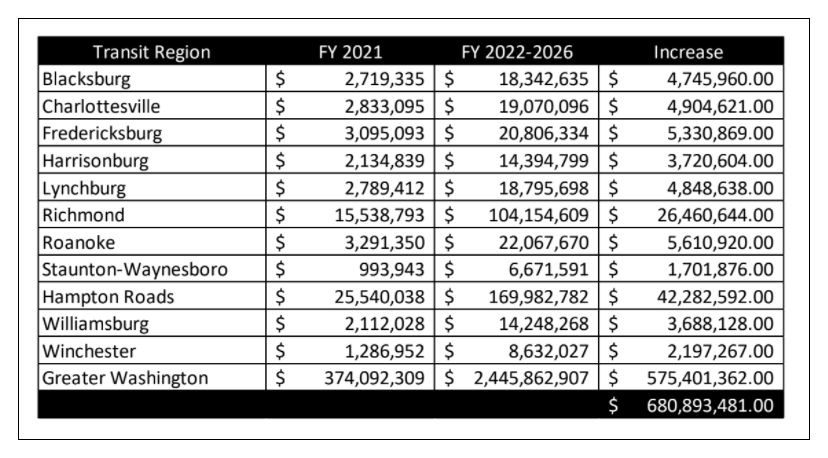 All of Virginia's Democratic Representatives in Congress voted for the bill, whereas all of Virginia's Republican Representatives voted against it. But Biden said there was support from industry.
"This law was supported by business groups — the U.S. Chamber of Commerce; the National Association of Manufacturers; the Business Roundtable, representing 200 of the largest corporations in America and other top businesses," Biden said.
Local governments are watching closely to see what the bill may mean for their bottom line.
"Albemarle County will closely monitor avenues for local governments to apply for funding to advance our strategic infrastructure needs as guidance becomes available from the federal and state governments," said Emily Kilroy, director of Communications and Public Engagement for Albemarle.
---
Before you go: The time to write and research of this article is covered by paid subscribers to Charlottesville Community Engagement. In fact, this particular installment comes from the November 16, 2021 edition of the program. To ensure this research can be sustained, please consider becoming a paid subscriber or contributing monthly through Patreon.