Scottsville Town Council briefed on Keene Convenience Center, water supply
Scottsville's Town Council met this past Monday and got several updates on several infrastructure projects. Planning continues for a park in west downtown funded through a $80,000 grant from the Virginia Outdoors Foundation. Scottsville Town Attorney Jim Bowling said the next step is to sign an easement document for public access on land owned by prominent landowner Dr. Charles Hurt.
"All of this land is in the flood plain and its proposed to be a permanent recreational easement for the benefit of the town and its citizens," Bowling said. "The easement will be jointly owned as proposed by the Virginia Outdoors Foundation and the town." 
The Council also got a briefing from the Rivanna Water and Sewer Authority, which withdraws water from Totier Creek or the Totier Creek Reservoir. RWSA Executive Director Bill Mawyer said the reservoir was built in 1971 and holds 155 million gallons.
"We get water out of the creek most of the time," Mawyer said. "Totier Creek Reservoir tends to have a high turbidity and sediment load."
Mawyer said RWSA is planning for an $11 million upgrade to the water treatment plant that was originally built in 1964. That won't happen for at least five years.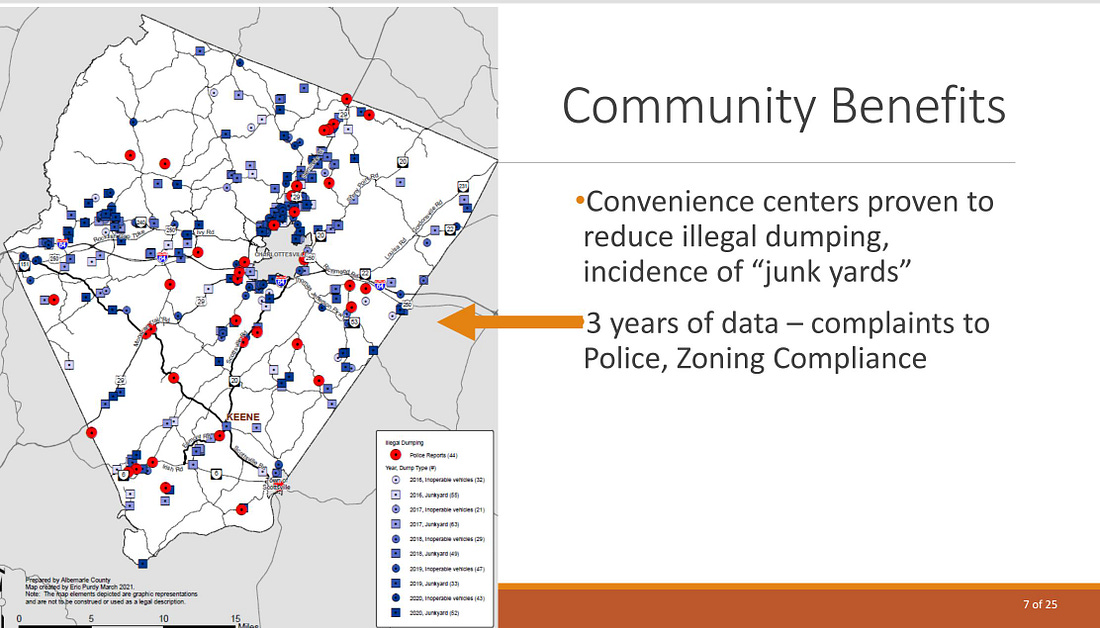 Much sooner than that, Albemarle is working on a facility where residents can bring household waste in southern Albemarle to a collection site known as a "convenience center." The project will be built in the unincorporated area of Keene on land owned by the county, north of Scottsville on Route 20. The Albemarle Board of Supervisors has allocated $1.1 million for this project.
"And that would include all of the containers and compactors necessary to open the operation," said Lance Stewart, the county's director of facilities and environmental services. "That of course would be done in cooperation with the Rivanna Solid Waste Authority."
The county purchased the land in 1990 for a potential trash transfer facility, but that project was never built. Stewart stressed this is not the site of the now-closed Keene landfill.
But what is a convenience center, exactly?
"It's a place to take bagged household waste or in containers, not bulk household waste," Stewart said. "Also compostable food waste or array of recyclables, glass, plastics, paper, cardboard, tin, and other metals."
Stewart said the project helps the county implement its Climate Action Plan by moving forward with a project to reduce greenhouse gases.
"That food waste that's compostable is the largest greenhouse gas emitter among the solid waste components so from a climate action plan perspective that's a significant and growing opportunity for us," Stewart said.
For the project to move forward, it will need to be reviewed against the Comprehensive Plan by the Albemarle Planning Commission.  The hope is to have the facility to be open in the fall of 2022. The Scottsville Town Council will vote on a resolution of support at its meeting on Monday, April 19.
---
Before you go: The time to write and research of this article is covered by paid subscribers to Charlottesville Community Engagement. In fact, this particular installment comes from the April 15, 2021 edition of the program. To ensure this research can be sustained, please consider becoming a paid subscriber or contributing monthly through Patreon.