Charlottesville PC recommends adjustments to FY22 capital budget, including defunding parking garage
The Charlottesville Planning Commission has weighed in on cuts and other amendments they would like to see made to the city's proposed capital improvement program. Hosea Mitchell is the chair of the body.
"There are at least four hot potatoes," Mitchell said.
One of these hot potatoes is an additional $8 million in funding in FY22 for a parking structure on land purchased by the city in January 2017 at 9th and Market Street to support the joint courts complex with Albemarle County. Others are $50 million as a placeholder for middle school reconfiguration and the of previously-approved millions in city funding for the West Main Street.  All told, the draft five-year plan totals $160 million, or about double what the CIP was ten years ago. (draft CIP)
"What is outlined in the documents we've got is not sustainable," Mitchell said. "The budget cannot be achieved without significant revenue enhancements. Tax and fee increases."
There have been many words written about the West Main Streetscape, a project whose cost estimate has increased to as much as $52 million to build out the full scope of a design put together by Rhodeside & Harwell. Staff has recommended not proceeding with funding for two of the phases for which Council has already authorized the sale of municipal bonds. Krissy Hammill is a senior budget management analyst with the city.
"West Main Street, there was $4 million that was removed," Hammill said. "The $18 million that was previously approved in prior CIP's remains intact and would be available."
To pay for this draft CIP, Hammill said the tax rate would need to be annually increased by two cents for five years beginning next year. If Council proceeds with this version, they would be using up all of the city's debt capacity for years to come.
"That would mean that future Councils or Commissions would also be limited in what could be recommended or added to future CIP budgets," Hammill said.
After a public hearing, Commissioners began their discussion. Many questions had to do with the status of state funding for the West Main Streetscape, a project that was broken into multiple phases in order to secure funding. Phase 1 has a cost estimate of $16.7 million, of which $3.275 million comes from VDOT's transportation revenue sharing program. Jeanette Janiczek is the manager of the city's Urban Construction Initiative.
"When the city submits a grant application, we have to identify what we're going to do with the funds," Janiczek. "With revenue-sharing it's a little bit more open ended. That would be on phase 1 only. There are no Smart Scale funds on it."
Smart Scale is a process where VDOT funds projects based on how they would accomplish different criteria such as public safety. The city received just over $2 million in Smart Scale funding for Phase 2, as well as another $2 million in revenue-sharing. The rest of the $11.15 million would come from the sale of municipal bonds, which ultimately would be paid by city taxpayers.
VDOT staff have recommended the city receive $10.8 million for the third phase of Smart Scale, which is a standalone project that would not require a city match. Much of the city funding would cover the cost of undergrounding overhead utility lines, which VDOT will not cover.
Another big ticket item in recent CIPs has been funding for affordable housing. Previous Councils have approved line items for specific projects as well as general contributions to the Charlottesville Affordable Housing Fund. One of these calls for $13.5 million in funding for the Charlottesville Redevelopment and Housing Authority to redevelop various sites. That includes $1.5 million for fiscal year 2022. Commissioner Liz Russell asked why that figure is lower for next year, but increases to $3 million in future years. The city's redevelopment manager, Brenda Kelley, explained.
"The housing authority, CRHA, is not planning on making a [Low Income Housing Tax Credit] application this coming March," Kelley said. "I don't know if they have any proposals for March 2022 yet."
The CRHA has received tax credits for the redevelopment of Crescent Halls as well as the first phase of South First Street. Construction of the latter is expected to break ground later this month. Kelley said the specifics of how city funding would be used for future projects has not been worked out, but including the overall figures in the CIP tells the CRHA of the city's commitment.
"South First Street Phase 2 will probably start construction about this time next year and right now there aren't any proposed projects in the future planned, but they are looking at all of their other sites," Kelley said. "There's just nothing definite on board right now."
Russell and Mitchell both said they would like to see some way to salvage the West Main Streetscape. Mitchell suggested reducing the amount for the parking garage, and using that to help cover some of the costs for West Main. So did Commissioner Gary Heaton who said he would support paying to place the utility lines underground.
"I think [there is] not a lot to be gained by just completely wiping off improvements that need to be made that have residual benefits to the community long into the future," Heaton said. "If you're spending that kind of money and you're doing that kind of renovation work, you underground while you've torn up the street."
Commissioner Rory Stolzenberg asked his colleagues if they had read through the value engineering study which reviewed the Rhodeside & Harwell design to find cost savings.
"It is appalling," Stolzenberg said. "You've got half a million dollars in there for rocks. Literally just a boulder that is sliced into pieces for decorative purposes. You've got half a million dollars for custom concrete benches that look incredibly comfortable where you could have bought regular benches for like $20,000. I think with the streetscape project, we really have to get back to what's important."
Stolzenberg agreed with a decision to close the slip lane that allows vehicles to turn right from eastbound West Main to southbound Ridge Street but said the city did not need to invest in a pocket park at that location at this time.
Commissioner Lyle Solla-Yates also weighed in.
"I'd like to see increases in funding for the Charlottesville Affordable Housing Fund, increased funding for tree planting, and providing more funding for essential parts of West Main for best use, matching funds for health, safety, and cost and risk prevention," Solla-Yates said.
Solla-Yates suggested delaying funding for more small area plans, implementation of the Strategic Investment Area, and delaying spending on the parking garage for at least one more year. He also suggested deferring $6 million on the General District court anticipated for next year until at least FY23.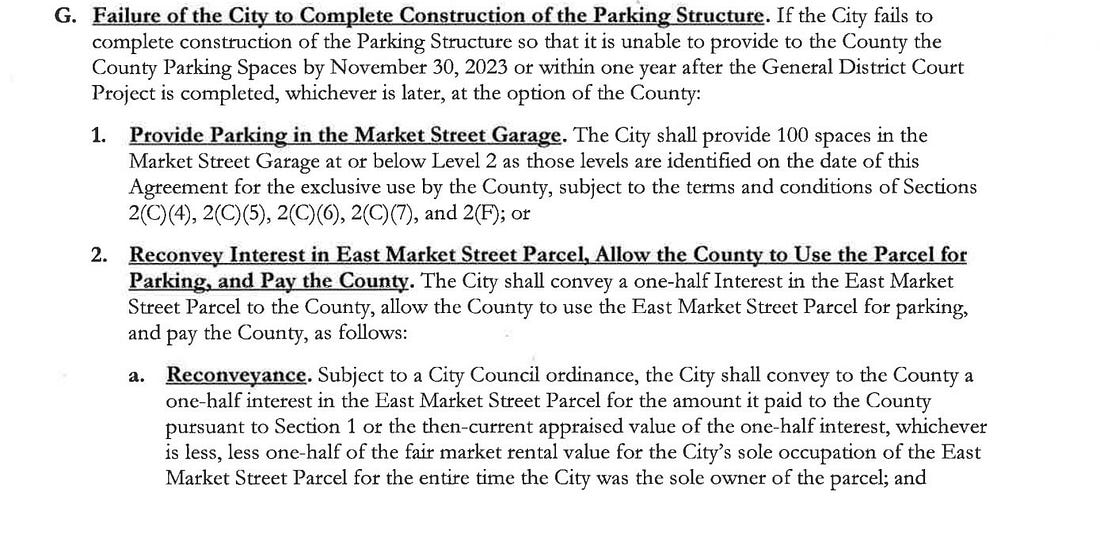 An agreement between Albemarle and Charlottesville for the courts complex includes a section on how the county "shall" begin construction of the parking garage by May 1, 2022 and deliver 90 spaces for use by the county by November 30, 2023. If they do not, then the city must either provide 100 spaces in the Market Street Parking garage to the county or sell back a share of land on East Market Street. (correction has been made to this paragraph post publication. See comments)
After the commission's discussion, Vice Mayor Sena Magill asked a question.
"I keep hearing everyone talking about how we [might] move forward with the garage but it just being the absolutely least necessary and I just think that needs to have some definition for what is considered to be the least necessary," Magill said.
City economic development director Chris Engel said he did not have a good question but the total $10 million figure was derived from a preliminary study of a 300 space garage with 10,000 square feet of commercial space.
Mitchell said he would support spending an amount to satisfy the terms of the agreement to provide 100 spaces.
"I do think that there are creative ways to meet out commitment without spending [$10] million bucks," Mitchell said.
Stolzenberg said he envisioned a one or two story building with parking on the bottom with enough structural support to eventually build housing units on top. He also suggested asking the county if they would consider amending the agreement to delay the project.
After a discussion, Mitchell suggested a recommendation to make a motion to make amendments. The motion they voted upon calls for:
Prioritize local West Main Street funding to match state funding for transportation for health and safety while not spending money on aesthetics
Delay funding for small area plans until the Cville Plans Together initiative is completed
Delay further funding on SIA improvements until the Cville Plans Together initiative is completed
Delay some funding for garage, courts complex, and $1 million for East High Signalization
Reduce overall funding for the garage and study ways to otherwise fulfil commitment to Albemarle County
Delay $150,000 in additional funding for economic development strategic initiatives
Increase funding for the Charlottesville Affordable Housing Fund from the $800,000 a year proposed
Increase funding for tree planting and pursue donation program for this purpose
Increase funding for sidewalks
The commission voted unanimously to approve the motion. Their recommendations are purely advisory. Council will be presented with a budget later this month. On Monday, they will further discuss what to do with the West Main Streetscape. 
---
Before you go: The time to write and research of this article is covered by paid subscribers to Charlottesville Community Engagement. In fact, this particular installment comes from the February 10, 2021 edition of the program. To ensure this research can be sustained, please consider becoming a paid subscriber or contributing monthly through Patreon.