Regional planners get preview of North Fork rezoning
An official group of planning officials from around the Charlottesville area got a preview last month on a major rezoning on land at the University of Virginia Foundation's North Fork research park. The Land Use Environmental and Planning Committee was created in 2019 when elected officials agreed to cease meeting in public as a body known as the Planning and Coordination Council. One of its members is Hosea Mitchell of the Charlottesville Planning Commission.
"They are actually asking for a rezoning and the rezoning is to allow for residential to be included in the industrial developments that they're doing there," Mitchell said. 
The presentation at the December meeting was made by Fred Missel, the UVA Foundation's director of design and development. He has since been named to serve on the Albemarle Planning Commission as a voting member after spending several years on the Albemarle Architectural Review Board.
The LUEPC meetings are not open to the public, but Missel presented the rezoning in detail. The Foundation seeks a rezoning for portions of the North Fork park to the Neighborhood Model District. The Code of Development calls for a multiblock approach with a minimum of 200 residential units and a maximum of 1,400 units. The University of Virginia has announced this location as one of three sites where the Foundation will partner with a developer to build affordable units. At North Fork, buildings would be up to six stories.
Albemarle County's first round of comments back to the foundation are due at the end of this month, according to the presentation. A community meeting will also need to be held for the rezoning.
Back to the Land Use, Environmental and Planning Committee. This year, the city of Charlottesville takes on administrative responsibility for the group. According to Mitchell, utilities director Lauren Hildebrand will be the chair this year.
The University of Virginia Master Planning Council meets next week. Those meetings are not open to the public but there are representatives from Albemarle and Charlottesville.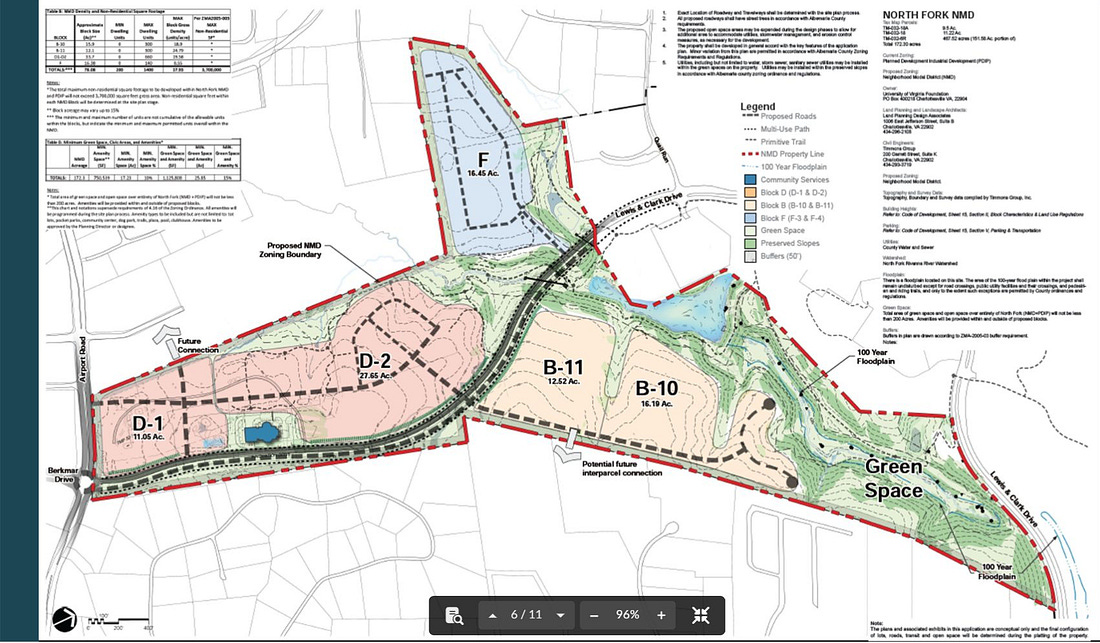 ---
Before you go: The time to write and research of this article is covered by paid subscribers to Charlottesville Community Engagement. In fact, this particular installment comes from the January 12, 2022 edition of the program. To ensure this research can be sustained, please consider becoming a paid subscriber or contributing monthly through Patreon.