Albemarle Supervisors begin discussion of next Comprehensive Plan review
Planning staff in Albemarle's Community Development Department have recommended a three-year review of the county's Comprehensive Plan, but some members of the Board of Supervisors suggested it should take place faster.
Virginia's code requires the Planning Commission in each locality to create and maintain such a plan to guide future development.
"In the preparation of a comprehensive plan, the commission shall make careful and comprehensive surveys and studies of the existing conditions and trends of growth, and of the probable future requirements of its territory and inhabitants," reads 15.2-2223.
Albemarle's Comprehensive Plan guides all decisions made in the county, and a major plank is a growth management policy. Charles Rapp became planning director in 2019, but he knows the history. The county's first Comprehensive Plan dates back to 1971.
"At that time there was a population of just under 40,000 people here in the county," Rapp said.
Nine years later, the county's Comprehensive Plan had been updated to call for a growth management policy to limit suburban sprawl. The Board of Supervisors adopted a downzoning in 1980 that established the designated growth areas we know today. The last update was approved in 2015 after a long period of review.
"That update along with the numerous updates over the past 15 years have added a wealth of information throughout our Comprehensive Plan and that has resulted in a document that is over 400 pages long," Rapp said.
Rapp said the county continues to experience growth, and the pandemic did not slow down the number of building permits and land use applications. Forecasts show the trend will continue.
"The current population is estimated at just below 110,000 here in Albemarle County which is bringing new challenges," Rapp said. "There have been recent discussion with the Board and with some of our community groups and other boards and commissions focused on transportation infrastructure, affordable housing, development density and form as our development areas take on more urban character, protection of natural resources, scenic viewsheds, and the rural areas."
Rapp said the upcoming Comprehensive Plan update will give community members and elected officials the chance to review all of these issues. He said there's also an opportunity to add focus on two new priorities that have emerged in the past few years.
"There's been an organizational core value of equity and inclusion and diversity which we feel should really be folded into all aspects of this Comprehensive Plan," Rapp said. "Another item that we'd like to see is to strengthen the synergy between the comp plan's policies and the goals of the Climate Action Plan so they really align together."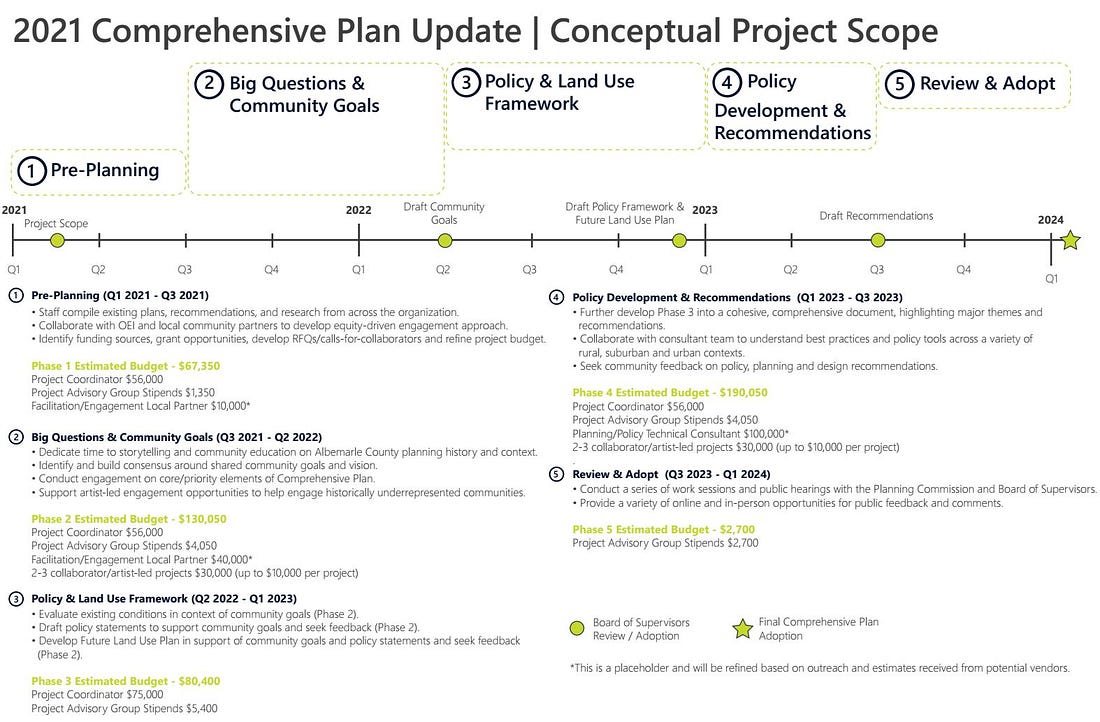 Rapp said staff is recommending an approach that would "deconstruct" the existing plan and try to root inconsistencies. The idea is to hire a temporary project coordinator to work on a three-year, five phase process to update the plan. The first would be pre-planning, but planning manager Rachel Falkenstein said community engagement would begin in the second. (conceptual scope)
"The second phase we are calling Big Questions and Community Goals, and here is where we would begin the broad engagement process on developing a community vision," Falkenstein said.
The third phase would deal with land use topics in order to set expectations for community development. The fourth would include development of new policy recommendations, and the fifth would be adoption of the plan. The conceptual framework said this would take place in the first quarter of 2024. A new committee would be created to oversee the project and members of this Project Advisory Group would be paid stipends. The county would hire artists to try to find new ways of conducting community engagement.
Not mentioned by staff, but this year, three seats are up on the Board of Supervisors, and the other three are up for election in 2023. Before then, current supervisors get to approve the pathway forward.
Supervisor Diantha McKeel is in the final year of her second term representing the Jack Jouett District and she expressed a concern.
"Three years is taking me back a little bit," McKeel said. "That is a long time. I understand there is a lot of work and we don't want to rush it but three years seems like a long time to get this update done."
The last Comprehensive Plan took four years to update. (story from June 2015)
For comparison, the city of Charlottesville is entering the fifth year of its Comprehensive Plan process. (cvilleplanstogether)
But back to Albemarle. The first plan in 1971 envisioned a lot more urban development than currently planned. Supervisor Ann Mallek has been active in civic affairs there since the mid 1980's and was active with the Earlysville Area Residents' League.
"Back in the 90's, 80s, Earlysville's crossroads was a village and thankfully during the early 90's the leaders of our little organization at the urging of the residents said, well go down to the Board of Supervisors and ask them when we're going to get out sewers and our sidewalks to go along with all of the townhouses that we were supposed to have right here in the middle of Earlysville," Mallek said. "And the Board at the time said you're not getting any, so the response was, take away our village, and they did. That's not going to happen now I'm sure because all of the services have expanded out much much further than they used to be."
This will be the first Comprehensive Plan update for Supervisor Donna Price of the Scottsville District. She said Albemarle's population has grown by 175 percent since 1971.
"This simply exemplifies the complexities of what we are dealing with as an urbanized county that many of our other nearby communities don't face and really demonstrates the necessity of a review of our Comprehensive Plan," Price said.
Supervisor Bea LaPisto-Kirtley of the Rivanna District was elected in 2019 along with Price. She said she thought the plan revision should be conducted through the Community Advisory Committees rather than create a new committee.
"I will be honest with you, I've got a problem with offering some stipends to people," LaPisto Kirtley said. "I didn't see how much it would be per person."
LaPisto-Kirtley said she would support a chapter-by-chapter review of the existing documents rather than appear to start from scratch. Supervisor Liz Palmer's first year on the Board of Supervisors in 2014 was spent during such a review.
"A lot of people communicate through the Board," Palmer said. "They elect us. They listen to us. And development and land use planning is what they're asking us about half the time. I would want to make sure the Board is quite involved in this and doesn't come in at the end when you guys have gotten this document all together and it's dumped on our lap."
At the end of the discussion, Rapp said he would try to come back with a way to speed up the timeline. A new proposal will come back to the Board of Supervisors at a later date.
Before you go: The time to write and research of this article is covered by paid subscribers to Charlottesville Community Engagement. In fact, this particular installment comes from the February 6, 2021 edition of the program. To ensure this research can be sustained, please consider becoming a paid subscriber or contributing monthly through Patreon.