Council briefed on status of multimillion West Main Streetscape before budget work session
Planning got underway in 2013
At a budget work session later today, City Council is expected to take a final decision on the fate of the West Main Streetscape. The multimillion project stems from a planning study that began in 2013. The project has been split into four phases in order to secure funding from the Virginia Department of Transportation. You may ask: how's it going?
Staff has recommended not putting additional dollars into the second phase,  which would call into question the future of state funding awarded to that portion of the project, which has a multimillion dollar cost estimate for all four phases. 
On Monday, Council discussed a study intended to cut the costs of the project which has been under development since 2013. Unlike Albemarle County, city staff plans and manages the city's road construction projects. Jeanette Janiczek is manager of the city's Urban Construction Initiative. (read the study)
"The idea is not to rescope the project," Janiczek said. "The idea is with a value engineering process is to have an independent firm review the work that's been done and see ways we can improve the project while still maintaining the benefits that we were envisioning."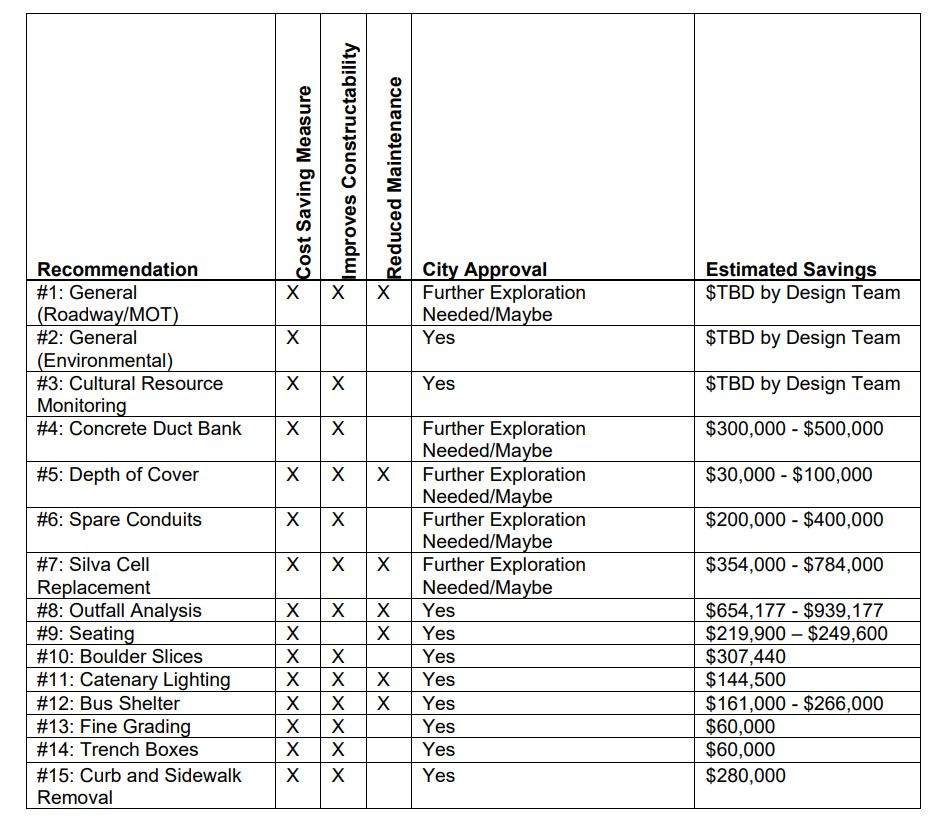 The city has secured millions in funding from the Virginia Department of Transportation for the project, which was originally envisioned to add bike lanes, new sidewalks, and new street trees for a roadway that had been anticipated to have several hundred more residents as new construction was built. The project was broken into four phases in order to help secure funding. Two have received funding and both require a local match.
Last month, VDOT staff recommended over $10 million for Phase Three of the project, which includes the area where hundreds of apartment units have been built at the Standard, the Flats at West Village, and the Lark on West Main. These have all been built and occupied since the West Main Study got underway in 2013.
Janiczek said staff recommended approval of ten recommendations in the value engineering study from RK&K to reduce cost. One of them is not to move forward with planting trees in a proprietary product called a Silva Cell that would also retain stormwater.
"We don't have any Silva Cells anywhere in the city," Janiczek said. "So this is a new product. It's proprietary. It's kind of expensive because it does so many wonderful things. It can complicate utility relocation because these are plastic tubes that are sorted on a plastic platform and are separating the sidewalk, or the pavers in this instance."
All of these intricacies are called for by the West Main Streetscape design put together by the firm Rhodeside & Harwell. As of last year, they've been paid $2.85 million by the city so far to create construction documents created as part of the process. A previous City Council approved the schematics in May 2017. No members of that Council are still in office. (May 2017 story)
City Councilor Michael Payne said he appreciated how the Silva Cells could help the city achieve some of its climate action goals. He also said that the value engineering study did not really do enough to bring down costs of a project that has had an estimate as high as $49 million. That prompted a long conversation about whether the project should just be killed.
"We're really just going to need to be honest about, we're not going to be able to fundamentally change the impact of this project with value engineering, and if we cut blanket amounts from the CIP for this project, we're probably going to sacrifice the actual vision and intent that guided creating this, which was to create a very different kind of pedestrian-oriented corridor that's almost an extension of the Downtown Mall," Payne said.
Payne said he thought housing and school reconfiguration were more important to spend capital improvement dollars on.
Mayor Nikuyah Walker wanted clarity Monday about whether Council even wanted to move forward with West Main to avoid having that dominate the budget conversation later on today.
"Is this something that we can place on the shelf and be okay with that?" Walker asked.
Councilor Heather Hill said she still wanted to know what improvements need to happen on West Main just to keep it maintained.
"I still believe that this corridor is vitally important and its not working for pedestrian and bicyclists, so just getting staff's perspective on what an alternative would be," Hill said.  
Partial funding is in place
VDOT funding for Phase 1 and Phase 2 both require the city to match funds and the city's portion would come from bonds that Council has theoretically authorized but that have not yet been sold. Councilor Lloyd Snook asked if the city could save money by never selling bonds for that purpose.
"And so, in theory, we could reclaim $16 million minus the $3 million to do the bare minimum, we could reclaim say $13 million by saying 'sorry, we're not doing phase 1 or phase 2, we're just going to do the bare minimum?'"
"Correct," Janiczek said.
Snook said he wanted two more days to review before saying whether he would approve ending the project.
One question I have out to the Virginia Department of Transportation on whether the $10 million recommended for Smart Scale funding for Phase 4 has to be spent on the Rhodeside & Harwell design, or if a new public process could be opened up to decide how to use that funding to address the same purpose and need. This round of funding requires no local match, but it is possible the project would not have scored as high under an alternate design.
The city currently has several other streetscape projects in development that were funded by Smart Scale. None of them had a preconceived plan in place when they were awarded the funding. If the Commonwealth Transportation Board approves the funding in June, the actual money will not be distributed to the localities for several years.
No funding has been designated for the project's fourth phase, which spans between Jefferson Park Avenue and Roosevelt Brown Boulevard.
Last November, the University of Virginia reaffirmed their commitment to spend $5 million on West Main Street.
"The University remains committed to its funding pledge for the West Main Streetscape project," wrote UVA spokesman Brian Coy. "Per discussions with the City, our intent is to focus on safety and security improvements towards the western end of Main Street, supporting both students and the broader community."
Other projects in the vicinity
Regardless of whether the West Main Streetscape project moves forward, the city has been awarded funding for other projects nearby.
Additionally, VDOT is recommending $5 million in funding for multimodal improvements to Ridge Street, which is immediately adjacent to Phase 1 of the project. In the third Smart Scale round, the city was awarded $6.1 million in funding for a project at the intersection of Ridge Street, Elliot Avenue and Cherry Avenue.
The preparation for all of these Smart Scale projects have been overseen by Chip Boyles in his capacity as the executive director of the Thomas Jefferson Planning District Commission. He becomes City Manager on February 15.
---
Before you go: The time to write and research of this article is covered by paid subscribers to Charlottesville Community Engagement. In fact, this particular installment comes from the February 3, 2021 edition of the program. To ensure this research can be sustained, please consider becoming a paid subscriber or contributing monthly through Patreon.