Group seeks information from beverage producers on glass recycling
An ad hoc group of environmental professionals working on a way to reduce the amount of glass that winds up in landfills resumed the conversation earlier this month. The work is an outcome of Albemarle County's Solid Waste Advisory Committee and Better World Betty. They have been asking area wineries and breweries to tell them how much glass they discard in an online survey that is open through February 1.
"There's just a lot of glass to be had and we're excited about the survey results that we've received," said Teri Kent, the founder of Better World Betty.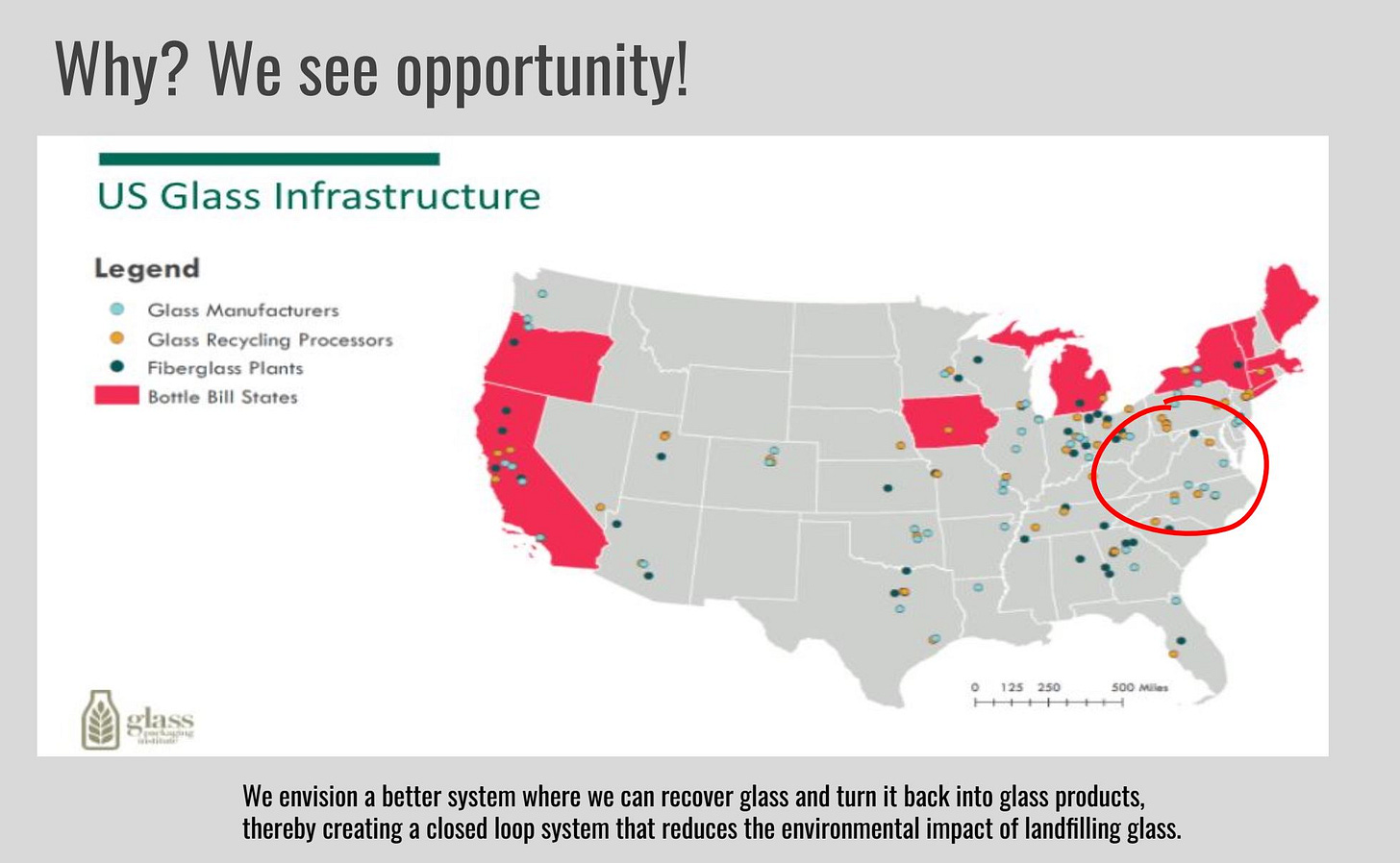 The idea is to collect the information with an eye towards hiring a hauler who could collect glass from beverage providers and aggregate the material at a processing facility run by the Rivanna Solid Waste Authority. For this to work, the glass must be separated in the waste stream to avoid contamination.
A co-founder of Valley Road Vineyards in Afton said he supported the idea.
"I am instinctively drawn to anything that will do something than what we're doing with glass now which is just putting it in the landfill," said Stan Joynes. "But I do have this question at the outset which is what is the end of this material?"
Philip McKalips is the solid waste manager at the RSWA. He said for many years, the agency collected glass and was able to find places for it to go but has recently formalized an arrangement.
"More recently we wanted to have more of a structured program, something that we could rely on functionally, and we set up an arrangement with Strategic Materials where they actually a hire a trucking company, they come on a regular process, out to our closed landfill, where we stockpile our recycled glass that comes in from our collection centers," McKalips said.
From there, the glass goes to a facility in Wilson, North Carolina, where the materials are sorted.
"And then they either use it internally or sell it to other users," McKalips said.
The goal of the current initiative is to collect enough glass so it can be used as material to make new containers. Localities in Northern Virginia have created a program where purple bins are used to collect glass, returning to a time when materials were separated by those who purchased the product. Scott DeFife is with the Glass Packaging Institute.
"All of the glass that's going into the bins in the Northern Virginia communities of Arlington, Alexandria and Fairfax is now making its way down to Wilson and getting turned around into glass container plants," DeFife said.
DeFife said much of what ends up in mixed recycling bins winds up in a landfill.
"Getting enough clean, you know, a critical mass of good quality glass can get that glass back into the supply chain," DeFife said. He added that there is a market for a glass manufacturer somewhere in Virginia which would reduce travel time.
"But the economics of processing are very chicken and egg," DeFife said. "Nobody is going to build a $10 million to $15 million glass processing plant if there's no glass to go to it."
So work continues to organize the waste stream. The group wants as many beverage producers as possible to fill out the survey. Jesse Warren is with UVA Sustainability.
"What we're thinking is some kind of weekly hauling route where a provider will provide something like a 64×96 gallon cart that you all will then fill up with glass," Warren said. 
---
Before you go: The time to write and research of this article is covered by paid subscribers to Charlottesville Community Engagement. In fact, this particular installment comes from the January 26, 2021 edition of the program. To ensure this research can be sustained, please consider becoming a paid subscriber or contributing monthly through Patreon.