The race for two seats on the Charlottesville City Council began today with the first candidate to announce a run.
"My name is Juandiego Wade and it is my honor to announce my candidacy for Charlottesville City Council," Wade said. Wade has been a member of the School Board since 2006, the first year there were elections for those positions. He's won re-election three times since.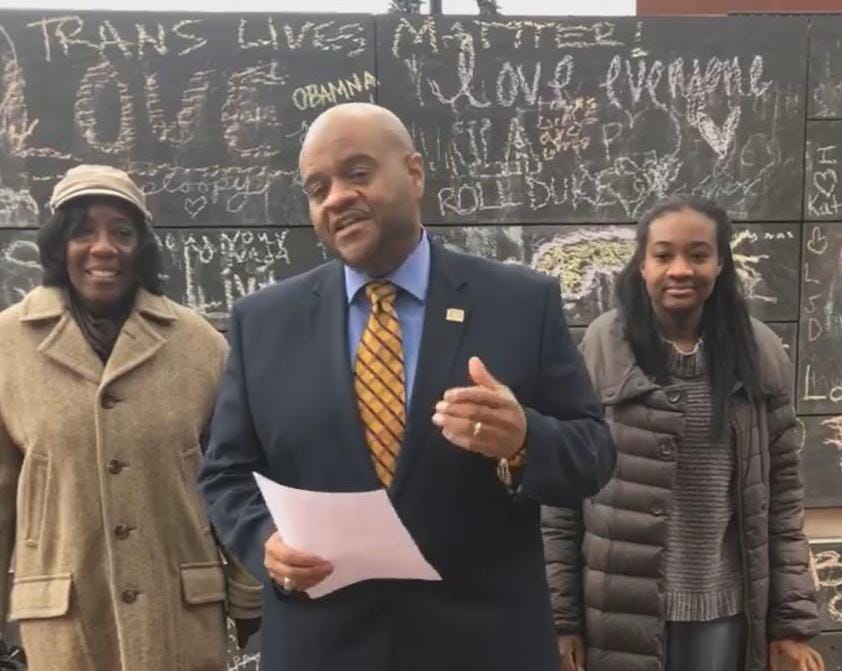 "I know the greatness that Charlottesville possesses, the greatness of its citizens, its staff, its organizations," Wade said. He's been an Albemarle County employee for thirty years and has served as the co-chair of the Community Working Group put together by University of Virginia President Jim Ryan.
"I believe to have demonstrated leadership and knowledge of local government which will allow me to hit the ground running," Wade said.
So far, Wade is the only challenger to announce, though Mayor Nikuyah Walker announced last February she would seek a separate term. However, Walker is an independent whereas Wade is seeking one of two Democratic nominations in the June 8 primary.
After the announcement, Wade took questions from reporters. The first from Nolan Stout of the Daily Progress asked what issues Wade wanted to discuss during the campaign.
"My platform, my areas would be criminal justice reform, I'd like to see how that could reimagined and I think that we can do that if we work together as a community," Wade said. "Affordable and workforce housing, public education, and the economy and I feel like with those areas I'm experienced in particular with education, and the economy as a career counselor working with the local shops and business owners for the last ten years in my current capacity with the county."
Wade's discussion with reporters was happening at the same time City Council continued to meet in closed session to discuss hiring a new city manager. A search firm is no longer working on behalf of the city to identify applicants. Wade didn't want to directly address what Council should do, but did say that as a School Board member, he has worked closely with Superintendent Rosa Atkins, who has been in her position since July 2006.
"When you get a good leader, you have to support them and that's something that I'm used to and that I understand," Wade said. "Not that you don't challenge your leaders with questions and ideas from time to time, but it has to be a team mentality."
From that perspective, Wade said he understood what Council is experiencing.
"Governing, leading under the best of circumstances is a really difficult job and we're not in a perfect situation now," Wade said. "I can imagine the leaders, the current leaders of Charlottesville, they have some difficult decisions to make."
He said his time as an elected official in Charlottesville has prepared him to make choices when the time comes.
"Over the years, on the School Board for the last 16 years, we have made some really difficult decisions and it got pretty heated and we got pretty short with each other but that's part of it," Wade said. "We get into this field to make those difficult decisions and that's why we were elected to do that."
Aside from calls to closed session, Council has not had a meeting yet this year and skipped one scheduled for January 4. They will meet tomorrow as part of a joint meeting with the Planning Commission. They had been originally been scheduled to discuss the Capital Improvement Program for next Fiscal Year, but that has been postponed to February.
One big ticket item for consideration by the current or a future Council is whether to move forward with at least $50 million to reconfigure schools for 5th through 8th grade. This next comment comes from Wade the School Board member who has to vote on a budget request to send to Council.
"We will need to look at the budget just like in every year," Wade said. "We have a great relationship with the city government working with public works and the City Manager's office to move forward because they know just like we do that when we have great schools and modern schools that that is a plus for the city. That that is going to draw businesses and residents in and so I know that they want to do it."
So far, Wade is the only announced challenger. He said he would wait to see who else seeks the Democratic nomination.
"Until we get two nominees, I just want to talk about my vision and listen and I think that I can do that I will hopefully be one of the seats come next November that will be able to serve the city," Wade said.
Bekah Saxon, the co-chair of the Charlottesville Democratic Committee, said the current plan is for local Democrats to select nominees in the June 8 primary.
"We are excited to see how the candidates emerge and are committed to making sure voters are able to learn about the entire slate of candidates in the Democratic primary in the months leading up to the primary," Saxon said in a message to me this morning.
Local election campaigns are often community events where people gather together. For at least the first part of this race, things will be a little different. I asked Juandiego Wade to talk about how the pandemic will affect the race.
"You know, Charlottesville is all about relationships and some of those things that that a candidate can really do well on is having those meet and greets in people's neighbors' living rooms and kitchens and things like that," Wade said. "I don't think that may be possible this time around but what I do imagine is that maybe meeting as the weather warms up in someone's backyard, or a big area where people can spread out and we can talk. But certainly Zoom will be part of that for this campaign. If there are public forums people want to come to, that it just may have to be socially distanced when people meet."
Some other information on the candidate. Wade is a native of Richmond, graduated from Norfolk State University in 1988 and the University of Virginia in 1990. In 2019, the Charlottesville Regional Chamber of Commerce honored him with the Paul Goodloe McIntire Award. According to his campaign website, he has been married to Claudette Grant since 1993 and then have one daughter who attends James Madison University.

This story was originally published as part of the January 11, 2021 edition of the Charlottesville Community Engagement newsletter.