Albemarle Executive report: New disc golf course at Chris Greene Lake, HARTS team in place
In Virginia, a locality's top manager actually performs the business of government and is responsible for executive actions. In Charlottesville that's interim City Manager Michael C. Rogers. In Albemarle that is County Executive Jeff Richardson.
Often reports on what's happening are made to the elected body. On May 17, Albemarle Supervisors got a report from Trevor Henry, the Deputy County Administrator. They learned there is now a new 18-hole disc golf course at Chris Greene Lake.
"The development of this new amenity in the northern part of the county was a successful partnership between Parks and Recreation by providing the space and in-kind services and the Blue Ridge Disc Golf Club whose members devoted 1,100 volunteer hours to construct the course," Henry said.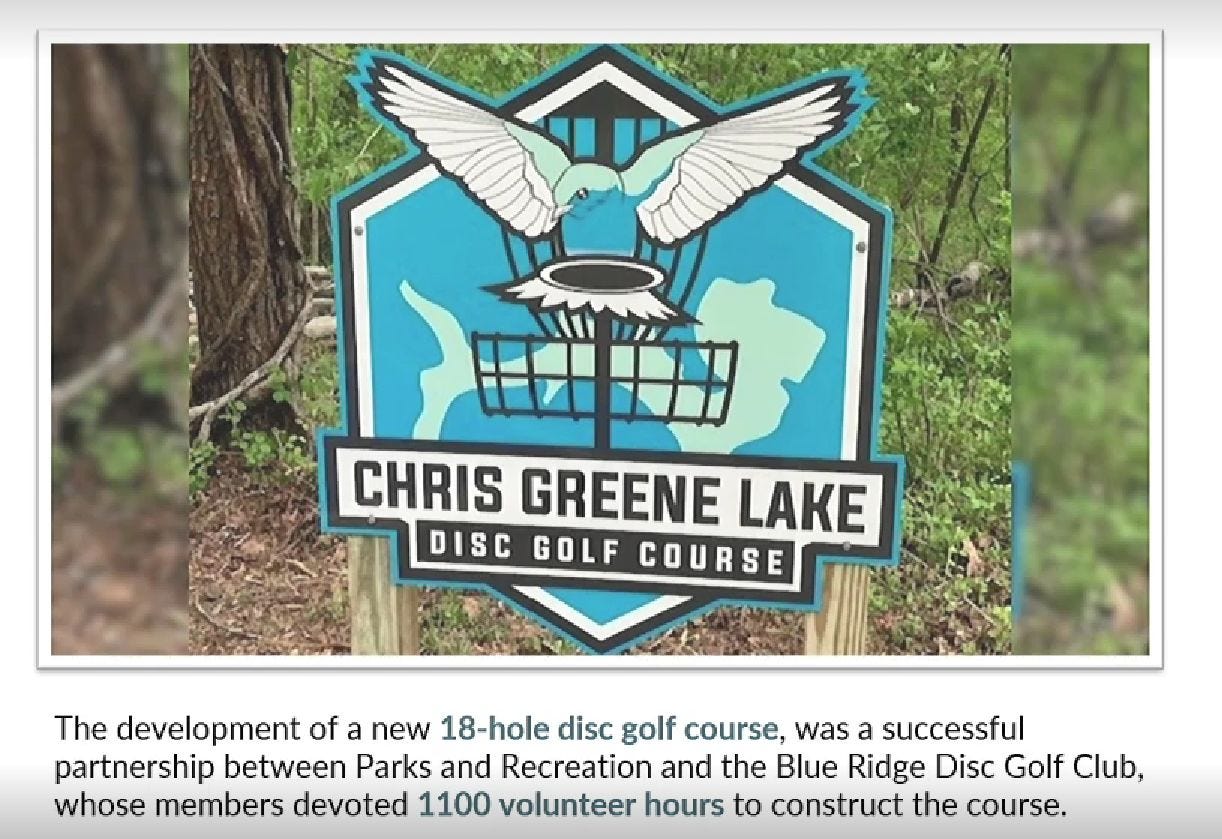 Henry also said graduate students at the University of Virginia School of Architecture are working with the county have helped with the creation of a Regional Digital Equity Plan that is being developed by the Broadband and Accessibility Office.
"This is in partnership with community organizations, the city of Charlottesville, and [the University of Virginia]," Henry said. "Their analysis resulted in several key recommendations that the coalition will incorporate into their final plan."
Henry also had news about the Human Services Alternative Response Team that Albemarle is putting together. The HARTS Team is intended to answer calls where a person is believed to be having a mental health crisis.
"The team has been formed and will be adjusting to responses based on each situation to ensure the safety and best outcomes for individuals involved," Henry said. "As they are forming, they are beginning training and developing protocols to implement the co-responder model. That work will continue with procedures and training as they become operational and start responding to mental health calls for service."
Henry also reported on the results of an archaeological study from materials uncovered at the location of the former Swan Tavern in Court Square in Charlottesville. That's the site of the future General District Court that will be jointly used by both the city and Albemarle County.
"These artifacts include a Moravian press pipe, bowls, antique glass bottles and more," Henry said. "This project is a good reminder for the important of preserving our county's history. The artifacts that were uncovered during this dig period are being cleaned and catalogued and we expect a final report by the end of this calendar year."
---
Before you go: The time to write and research of this article is covered by paid subscribers to Charlottesville Community Engagement. In fact, this particular installment comes from the May 22, 2023 edition of the program. To ensure this research can be sustained, please consider becoming a paid subscriber or contributing monthly through Patreon.