Council seeks more information on Regional Hazard Mitigation plan before approval
Staff at the Thomas Jefferson Planning District have spent the past year and a half updating a document that is intended to inform the local government's preparation and response to natural disasters.
"All of the localities in the TJPDC as well as the incorporated towns currently have an adopted hazard mitigation plan from 2018 so this plan gets updated every five years," said Ian Baxter, a planner with the TJPDC. (review the plan)
The plan also looks at recent trends to identify potential calamities. The latest update includes more information on communicable diseases given recent history with the COVID-19 pandemic.
"But it also allows localities that adopt the plan formally to be eligible for certain federal grants," Baxter said.
These grants are distributed by the Federal Emergency Management Agency either through the regular hazard mitigation assistance program or the Building Resilient Infrastructure and Communities program.
Charlottesville Mayor Lloyd Snook took issue with the way the report was presented to Council.
"We were given this report four days ago," Snook said. "It is 225 pages long. I have not read 225 pages. I've read about six pages that say something about Charlottesville."
Snook noted that there was no information from city staff highlighting the relevance of the report to the city, but noted that the information about flooding was highly important. (agenda memo)
"The discussion of what a 100-year flood event looks like on the Rivanna River is something we've agonized over quite a bit in the last few years," Snook said.
Councilor Brian Pinkston suggested taking two more weeks to review the plan before approving, and Baxter said that would not cause a significant delay.
City Councilor Michael Payne wanted staff analysis that compared the plan to processes underway to address the city's protections for floodplain areas. There had been a joint work session between Council and the Planning Commission on this topic earlier this year.
"We have the highest risk of anybody in the region," Payne said. "Flooding and storms are our biggest risk so maybe we should give some attention to that."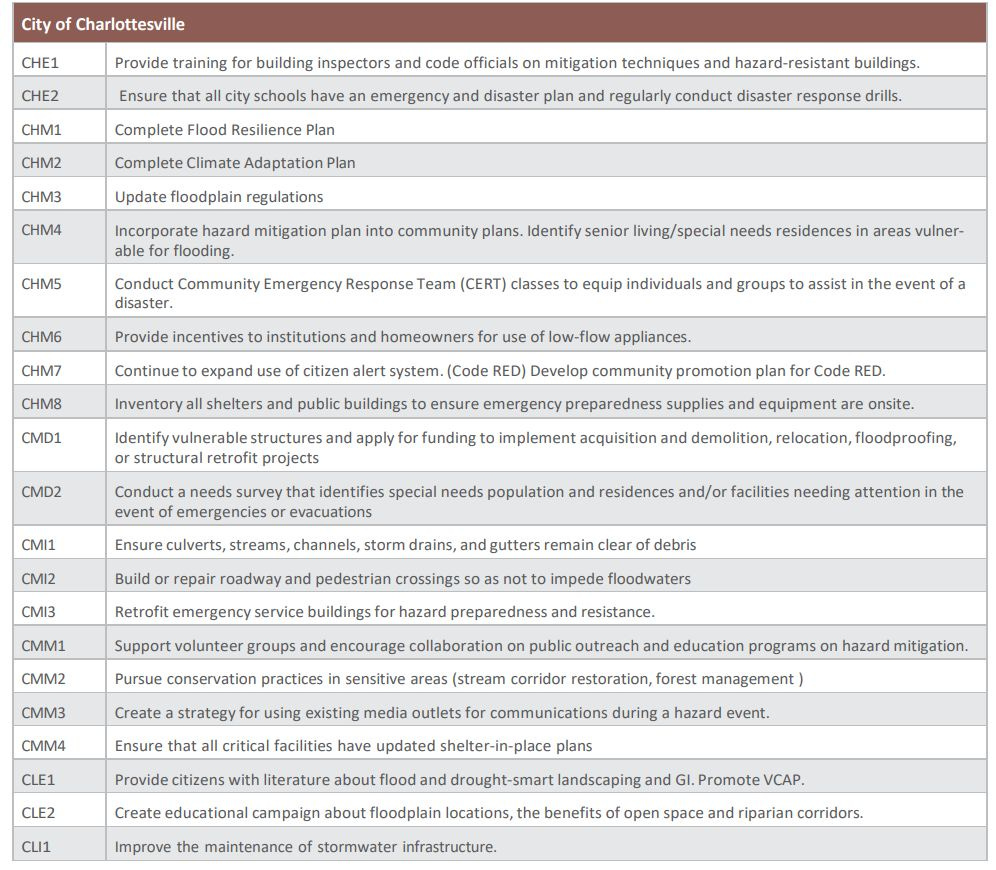 ---
Before you go: The time to write and research of this article is covered by paid subscribers to Charlottesville Community Engagement. In fact, this particular installment comes from the April 6, 2023 edition of the program. To ensure this research can be sustained, please consider becoming a paid subscriber or contributing monthly through Patreon.