Redevelopment continues for Charlottesvile public housing sites
The Charlottesville Redevelopment and Housing Authority's Board of Commissioners will have a work session Thursday night. They last met at a regular meeting on November 22 and got a series of updates. One was on the CRHA budget from Mary Lou Hoffman, the agency's finance director. CRHA's fiscal year runs from April to March 30. (financial statements through October 31, 2021) (watch the meeting)
"We're $517,000 ahead of budgeted at this point but that includes $644,000 worth of for all intent and purposes non-recurring money," Hoffman said. 
That includes shortfall funding the CRHA was awarded in each of the past two fiscal years.
Hoffman said one piece of good news is that the CRHA's Paycheck Protection Program loan received near the beginning of the pandemic has been forgiven and won't need to be paid back.
The number of public housing units has been temporarily reduced from 376 to 324 units due to the renovation of Crescent Halls, which is also affecting the way the financial statements look.
"It basically is shifting some of the costs that we had budgeted for Crescent Halls to the other properties and between now and the end of the year we will see an effect from that," Hoffman said.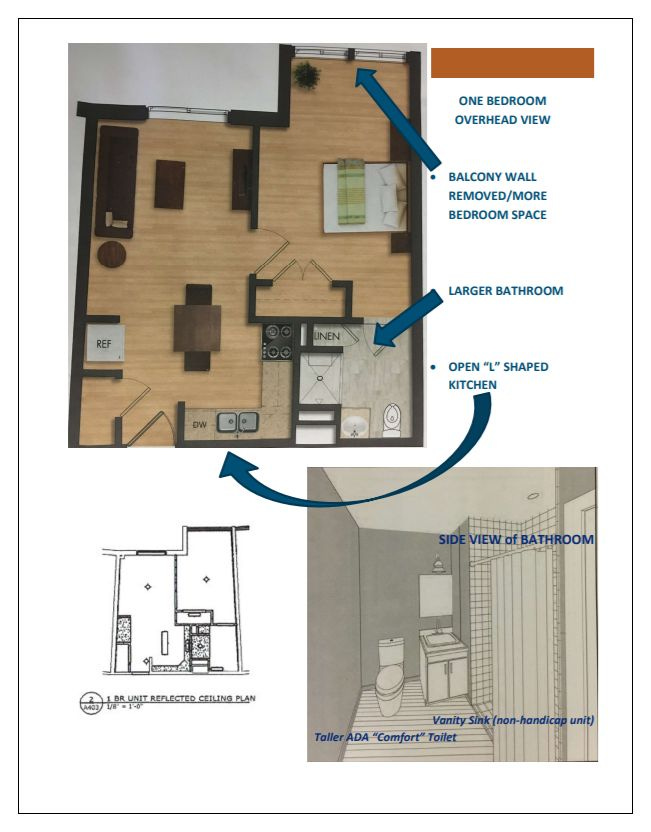 A piece of bad news is an unexpected $17,567 payment in October to the Internal Revenue Service related to unpaid bills that were not known to CRHA staff until recently.
"That was an IRS tax penalty that I was previously and totally unaware of," Hoffman said. "It was assessed against CRHA for failing to timely file 1099s for the tax year of 2017."
Hoffman said these 1099s were related to the payment of vouchers to landlords and other vendors, and they were eventually paid.
"I believe the minimum penalty was assessed which is $50 per 1099, so it's around 340 or 350 1099's," Hoffman said. "It's not only for our vendors but most of our landlords have to get a rent 1099."
Hoffman said part of the confusion stemmed from the CRHA having multiple mailing addresses including a one-time stay in City Hall. Headquarters have moved around a lot in recent years.
After Hoffman's presentation, executive director John Sales put the current year's budget in a different light. Soon after the fiscal year began, there was a massive water leak at Crescent Halls that has affected the near-term.
"Crescent Halls threw a curveball," Sales said. "The changing of Crescent Halls, the redevelopment plan, drastically changed revenues for the housing authority. The plan included keeping Crescent Halls at least partially filled with adding voucher units which added an additional revenue for the housing authority."
But the damage at Crescent Halls has meant moving all of the residents out while the renovation continues. Those shortfall funds have helped make up the difference for now. As of November 22, Sales said tenants owed $92,000 in unpaid rent. That's attracted the notice of the U.S. Department of Housing and Urban Development.
"They ask us about it every other week," Sales said. "We are currently working through the rent relief program to get funding and asking other sources as well to assist families that are delinquent."
Brandon Collins is the new redevelopment coordinator for CRHA and gave an update on planning for the second phase of redevelopment at South First Street. According to the CRHA website, the plan is to redevelop 58 existing public housing units into 113 new townhouse units and apartments. Collins said the CHRA has filed an application to change the financing structure.
"The demo-disposition application and mixed-finance application have gone in," Collins said. "It took a lot of doing to figure out the mixed-finance application but what we've landed on is phase two will have 20 public housing units, 38 project-based vouchers and 55 non-subsidized units."
Collins said CRHA is looking to see how they can get the rent for those 55 units to be as low as possible.
"It appears we can get those units down pretty low," Collins said.
A site plan has been submitted for the first phase of redevelopment at Sixth Street.
"Building A is going to be there along Monticello and wrapping around the corner onto Monticello onto Sixth Street," Collins said. "It will be four stories with 50 homes. It will have an elevator and parking underneath."
A master plan for the full site is being developed. Collins said some of the units will be set aside for homeownership. The Westhaven site will be the next future location of redevelopment with the intent to apply for Low-Income Housing Tax Credits in March of 2024. Resident planning initiatives will begin in earnest soon.
As all of these developments continue, Collins said CRHA has to strike a balance to ensure it follows federal rules to limit the number of public housing units on site.
"For those who don't know there was a law passed that you can't have any more public housing than you already had since October 1, 1999," Collins said.
The future of all CRHA properties will include a balance of multiple types of funding sources to keep rents low. Sales explained further about regulations of the U.S. Department of Urban Housing.
"HUD will allow us to add more subsidized units to the site if we're removing them from our housing-choice voucher portfolio," Sales said.
There's a lot of complexity. If you're interested, I recommend watching the meeting for a fuller explanation.
The CRHA will take up their annual plan at their meeting on December 20. I wrote about the process in the November 18, 2021edition of the show. You can read it on the archive site.
Thursday's work session begins at 5 p.m. 
---
Before you go: The time to write and research of this article is covered by paid subscribers to Charlottesville Community Engagement. In fact, this particular installment comes from the December 8, 2021 edition of the program. To ensure this research can be sustained, please consider becoming a paid subscriber or contributing monthly through Patreon.