Albemarle PC briefed on capital budget process
Tomorrow afternoon at 2 p.m., an advisory committee appointed to help Albemarle County shape its capital improvement program budget for the next fiscal year will hold its first meeting. Last week, the seven-member Planning Commission got an overview including a reminder that last year was very different. (watch the meeting)
"Last year when we were putting together the FY22 budget, there was no [capital improvement program]," said Andy Bowman, the chief of budget in the Finance and Budget office. "The county was in the middle of the pandemic and there was a tremendous amount of uncertainty and really at that time it was decided instead of focusing on a long-range picture, to focus on the impacts of the pandemic and what might be able to be unpaused from a number of projects that were paused at the start of the pandemic."
Bowman said the economy has rebounded much better than initially anticipated with outlooks becoming more favorable with each passing month. As the FY23 budget approaches, Bowman said the county is not immune to inflationary pressure, with bids for some capital projects coming in higher than budgeted. The process starts with a review of what's currently in the works.
"We have a capital program currently underway, before we even start anything from 2023 to 2027, of around $147 million for about 65 projects," Bowman said. "Of that $147 million, $91 million has been appropriated in the last eleven months now, from what was unpaused in January which included the expansion at Crozet Elementary."
Bowman noted that over the course of the next five years, the county will adopt a new Comprehensive Plan and the Board of Supervisors will update their strategic plan. Both documents as well as the School Board's strategic plan will guide future decisions on capital spending. Bowman said the focus this cycle will be on the immediate year to give flexibility on future needs.
The CIP advisory committee consists of Supervisors Bea LaPisto-Kirtley and Donna Price, School Board members Kate Acuff and Jonno Alcaro, and former Planning Commissioners Bruce Dotson.and Cal Morris.
"They're charged to do a few things," Bowman said. "First they will review and evaluate a proposal that is recommended by staff as a starting point and then the CIP committee will sort of make a recommendation and modify that starting point."
Bowman said there will be additional revenue from the cigarette tax and potential revenue from a tax on plastic bags. The county also refinanced its debt earlier this year.
"Given the current market we were able to issue a large amount of [borrowed proceeds] at low interest rates and that will create some capacity that didn't exist in the prior plan prior to the pandemic," Bowman said
Bowman said staff is also reviewing through the details of the American Rescue Plan Act to see how that funds can be used to leverage local dollars capital spending. In August, Supervisors used $4.5 million in federal COVID-relief funds for broadband expansion.
One of the biggest items in the capital improvement program is the need for school maintenance and expansion. Rosalyn Schmitt is the chief operating officer of Albemarle County Public Schools. She briefed the Planning Commission on the school's strategic plan.
"Getting the right resources to educators and students for their teaching and learning is key to our success," Schmitt said
The school system has a Long-Range Planning Advisory Committee and their most recent recommendations were published on September 9, 2021. The eleven projects have a cumulative cost estimate of $196 million, with most of the projects containing either word "renovations" or "capacity."
"Adequate capacity continues to be a need for the school division," Schmitt said. "This is supported by the ten-year enrollment projections and reinforced by both the recently completed development and student yield analysis, and a thirty-year population forecast."
One item is $40 million for another elementary school in the northern feeder pattern and another would be to purchase land for the western feeder pattern.
"As these schools all reach a saturation point where expansion is no longer practical, we recommend a strategy for land acquisition and the construction of new facilities," Schmitt said. "I think for the first time in a long time you'll see several new schools on this list."
There's also a recommendation to improve air quality within schools. There is a possibility that federal ARPA funding could be used for that purpose.
"That is a comprehensive program around mechanical improvements that there is some opportunity to have some matching funds from ARPA funding that we are pursuing," Schmitt said.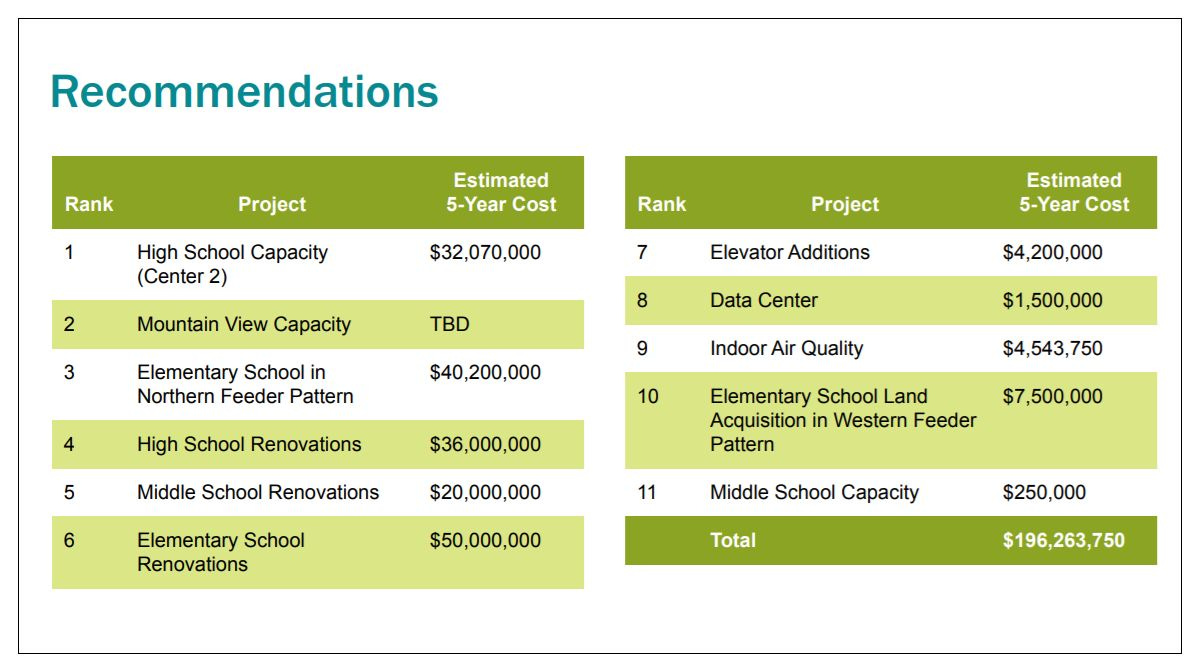 Luis Carrazana is the associate architect of the University of Virginia and a non-voting member of the Albemarle Planning Commission. He noted that the recent adoption of the Crozet Master Plan update called for capital infrastructure, as did the relatively recent update of the Pantops Master Plan and adoption of the Rio Small Area Plan.
"And so I'm wondering how we're looking at those approved master plans with the CIP and putting the same rigor as we seem to be doing with the School Board," Carrazana said.
Planning Director Charles Rapp said implementation of many projects in the master plans are dependent on lining up ideas with funding opportunities.
"A lot of those infrastructure related improvements, we identify them in these master plans or small area plans or corridor studies and that's often the first phase of identifying a project," Rapp said.
The next day, Bowman gave a similar presentation to the Board of Supervisors. This one has more specifics about the developing budget. (watch the presentation)
Supervisors were reminded that there is a significant "positive variance" from the FY21 budget of more than $13 million that can be used for one-time money.
"We are proposing, not really for discussion today but this will come back on December 15, to invest some of the one-time fiscal year 21 funding into the economic development fund," Bowman said.
At their December 15 meeting, the Board will also be asked for direction on whether to explore tax relief programs. They'll also be given a review of what additional revenue sources could be pursued in Richmond.
The Board of Supervisors will have a work session on December 1 related to the way the FY23 budget will be developed. Another change this year is the December release of Albemarle's property assessments for 2022. That will be presented to the Board of Supervisors on December 15, a month earlier than usual.
See also: Albemarle may close FY21 with $13.2M in one-time money, November 9, 2021
---
Before you go: The time to write and research of this article is covered by paid subscribers to Charlottesville Community Engagement. In fact, this particular installment comes from the November 22, 2021 edition of the program. To ensure this research can be sustained, please consider becoming a paid subscriber or contributing monthly through Patreon.