City Council may agree to adjust current zoning for mixed-use project
On Wednesday, the second draft module for Charlottesville's new zoning code will be released two weeks later than originally expected. According to the schedule for the Cville Plans Together initiative, a third module will be published in early April and public hearings are expected to follow. There are still a lot of stories yet to be written about how that process will unfold.
But for now, there are still stories to be written about the current zoning code and how it might be amended to allow RMD Properties to construct a multi-story building at the intersection of Ivy Road and Copeley Road. City Council and the Planning Commission took up the matter at their meeting on March 14.
Dannan O'Connell is a planner with the city's Department of Neighborhood Development Services.
"Our current code requires [Planned Unit Development] sites to contain two or more acres of land," O'Connell said. "The proposed amendment would remove this acreage requirement for parcels that are currently zoned Urban Corridor Mixed Use District." 

As mentioned, this request was made for one specific parcel at the intersection of Ivy Road and Copeley Road. RMD Holdings wants to build a nine story building there but that can only be accomplished under the existing zoning if the rules are amended.
O'Connell said the ability to do customized zoning for specific properties has been in the city's zoning code since 1976 when the Planned Unit Development feature was created with a three acre limit. That was dropped down to no limits in 2001 but a two-acre minimum was added back in July 2006.
As currently drafted, the new zoning would eliminate the ability to ask the city for a PUD in the future.
"Any changes made to the current zoning ordinance would be effectively overridden by the new zoning ordinance when it is adopted so this zoning text amendment may therefore be extremely limited in its usefulness to developers as it may only be in effect for several months," O'Connell said.
O'Connell said the new zoning would allow for five to eight story mixed- use buildings by-right and that staff felt this request would be redundant.
Valerie Long of the firm Williams Mullen acknowledged that the request is awkward, but said it is a matter of timing.
"This is not at all an effort to do an end-run or beat the new ordinance," Long said. "Our client is very excited about the new ordinance and they are designing the project to comply with the new ordinance draft or as much as we have now."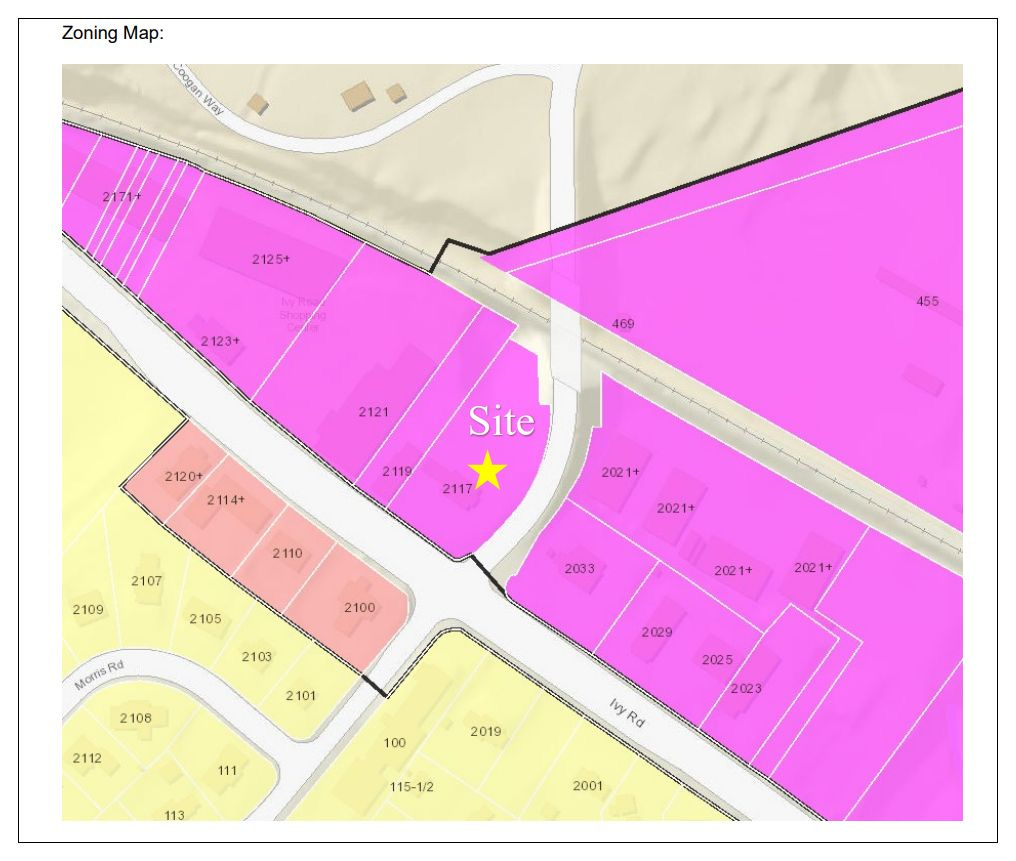 City Councilor Michael Payne said he was concerned the project might not comply with the affordability provisions that will be part of the new zoning. Long said RMD Properties plans to meet the city's requirements, whatever they end up being. The property would be zoned Commercial Mixed Use 8.
It would take about six months for a PUD application to go back before Planning Commission and the Council if this amendment is granted. Mayor Lloyd Snook said he would prefer not to make the adjustment, but could appreciate what was being requested.
"Although it kind of does a little violence to my sense of how the ordinance ought to be administered, I don't think that it's going to be substantively obnoxious," Snook said.
During the public hearing, Peter Gray of the Lewis Mountain neighborhood argued it was an attempt to slip something through the city's process.
"There are many specific aspects to the new zoning that would apply to the development that are not contemplated in the current zoning," Gray said. "Please make them conform fully with the new ordinance, not merely assert that they are trying to comply with what they think it might be."
Members of the Planning Commission said they didn't see any harm in allowing the procedural change to go forward with one saying it could result in an interesting outcome.
"If they think they can do a better job than our zoning code in making a project that fits in with our Comprehensive Plan, I think we should see what they have to offer," said Carl Schwarz.
Commissioner Rory Stolzenberg said he was willing to proceed because this is the last privately-owned building on Ivy Road. The University of Virginia is building several major projects as part of the Emmet-Ivy Corridor and their real estate foundation continues to purchase more.
"Many of the others are owned by the UVA Foundation and are likely to be transferred to UVA for development at some later point so we might end up getting a building that is as large as contemplated here or under the new zoning and without getting a dime of tax revenue for it that we could be using to fund our schools and other services," Stolzenberg said. "To me that is a worthy goal."
The Planning Commission voted unanimously to recommend the change. Council will need to hold two readings of the ordinance. At that point, RMD Properties will be able to make their request to go through the current rezoning process which will involve public hearings.
Such public hearings would no longer exist under the new zoning. Stay tuned for more stories about that process. 
---
Before you go: The time to write and research of this article is covered by paid subscribers to Charlottesville Community Engagement. In fact, this particular installment comes from the March 27, 2023 edition of the program. To ensure this research can be sustained, please consider becoming a paid subscriber or contributing monthly through Patreon.